Where To Buy Shake Shack x Bombas Socks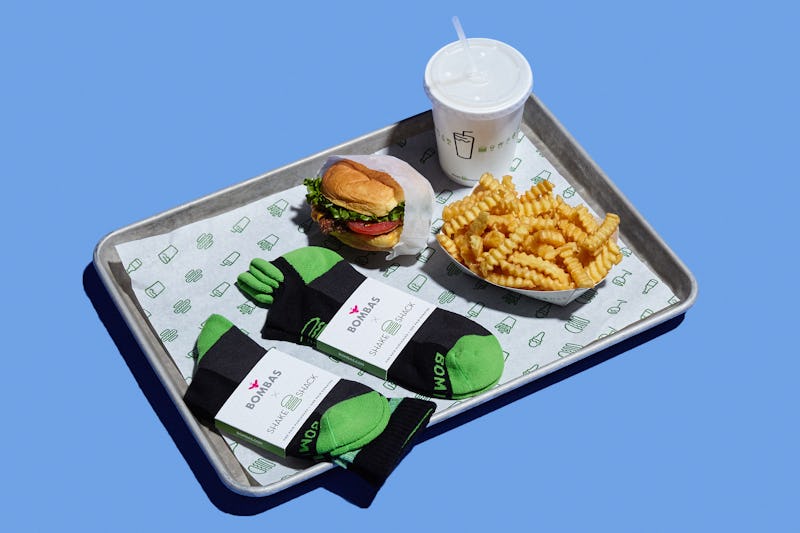 Courtesy of Bombas
If you're one of Shake Shack's many cult followers, there's another way to show your love besides braving the lines and the inevitable food coma that follows. The burger mecca is re-launching their Shake Shack x Bombas socks on Saturday, April 29, so your love for peanut butter shakes, crinkle fries, and 'shroom burgers will never be far from your heart — or the shoes that take you to them.
The socks are relaunching in celebration of the new Shake Shack x Bombas Community Initiative, which will bring together team members from both companies every month to donate burgers, socks, and volunteer hours to shelters and programs in NYC. So as it turns out, Shake Shack's mission to "Stand For Something Good" goes beyond their drool-worthy ShackSauce.
For every pair of socks sold, Bombas already donates a pair to a homeless shelter, where socks are the number one most requested clothing item nationwide. And for the Shake Shack collab specifically, the donated pairs will be directed to programs and shelters around NYC (where both businesses got their start).
Want to support the initiative? The Shake Shack x Bombas socks come in ankle and calf styles for $14 a pair, and you can buy them on Bombas.com, ShakeShack.com, and in some Shake Shack locations.
Shake Shack x Bombas Socks
Shake Shack x Bombas Socks, $14, Bombas and Shake Shack
Each pair has the sock brand's signature arch support and seamless toes, because there's nothing quite like your favorite pair of comfortable, cushy socks... especially when you're eating a burger while wearing 'em.
If you're looking for something a little more literal to display your affection for burgers, though, here are three other pairs to consider.
1. AEO Burgers And Fries Crew Socks
AEO Burgers And Fries Crew Socks, $10, American Eagle
These socks would make a cute gift for your favorite burger lover — even if that means you.
2. Hot Sox Hamburger, Fries, and Drink Socks
Hamburger, Fries, and Drink Socks, $6, Hot Sox
If you couldn't possibly imagine your burger and fries without a shake to go with them.
3. Function Hamburger Pattern Socks
Function Hamburger Pattern Socks, $13, Etsy
The ultimate statement socks.