Where To Buy Solar Eclipse Glasses Last Minute Without Getting Scammed By High Prices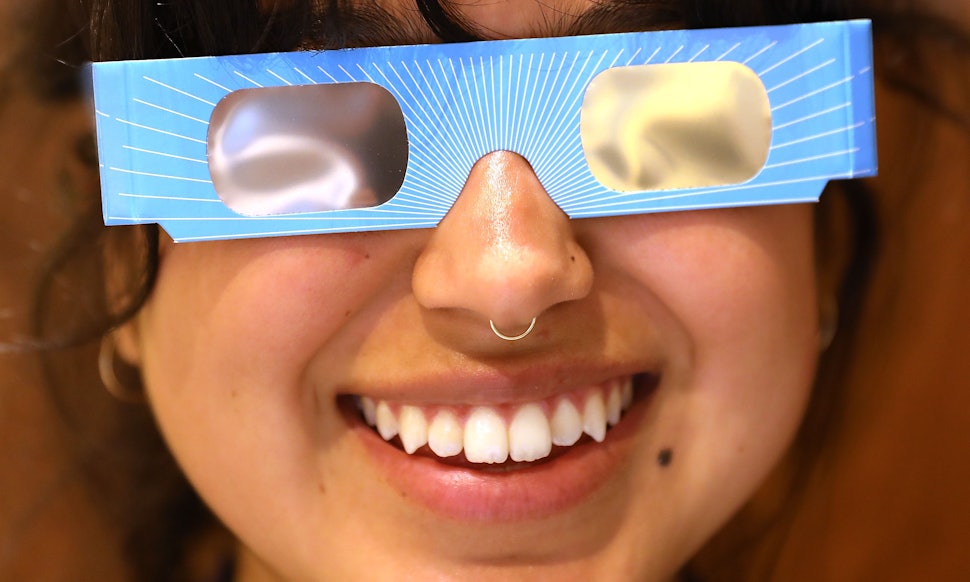 Spencer Platt/Getty Images News/Getty Images
On Monday, August 21st, millions of people across the United States will turn out to see the first total eclipse visible from the continental U.S. since 1979. Some people have been preparing for months. They have eclipse glasses and solar filters on their telescopes and are traveling hours to the "path of totality." Others (like myself) are somewhat, uh, less prepared. Maybe you were procrastinating, or just don't follow celestial events that closely. In any case, fear not! Procrastinators can enjoy the eclipse as well, as long as you know where to buy eclipse glasses at the last minute.
First of all, it's important to note that if you plan on watching the eclipse, you absolutely need some form of solar filter. Although looking directly at the sun during an eclipse is unlikely to cause total blindness, the sun's rays can kill cells is your retina, resulting in spotty or blurred vision that can last for a few weeks, or the rest of your life.
If you get eclipse glasses, it's also important to make sure that they have a label indicating that they are ISO 12312-2 compliant. Other glasses aren't strong enough, and can still allow harmful rays to reach your eyes.
Eclipse glasses have been selling out fast, but there are still some places you can buy last minute equipment to safely view the Great Eclipse. And if you can't get any eclipse glasses in time, there are other ways to view the event on Monday.
Here are some places you can still buy solar filter equipment if you've been putting it off.
Amazon
Although a lot of eclipse glasses are sold out, and won't be restocked until after the eclipse, these Soluna glasses are some of the few that you can still order in time for Monday. A 10-pack is $99.95, so if you and nine of your friends go in for them together, they won't break the bank.
Best Buy
Like Amazon, Best Buy has sold out of most eclipse glasses, but it still has some binoculars and telescopes available for those serious star-gazers among you. This Celestron telescope comes with a solar refractor, which makes it safe to use during the eclipse, and costs $89.99.
Warby Parker
Warby Parker, your favorite chic glasses chain is giving away free eclipse glasses at all of its 57 locations.
"As champions of sharp vision, we want to help everyone see this cross-country celestial spectacle as clearly and safely as possible—before it disappears again for nearly 30 years," their website says.
But the eclipse glasses are going fast. Before you go to your nearest Warby Parker location, you might want to call and make sure they still have glasses available.
Your local library
Libraries across the country are giving away two million free eclipse glasses.
"With support from NASA, Google, and the Gordon and Betty Moore Foundation, the Space Science Institute's STAR_Net initiative has distributed more than 2 million ISO-compliant safe solar eclipse glasses to more than 6,900 libraries all across the US," the American Astronomical Society wrote on their website.
STAR_Net also created an interactive map so you can see what libraries near you are participating.