This New Mask Is Basically A Pumpkin Spice Latte For Your Face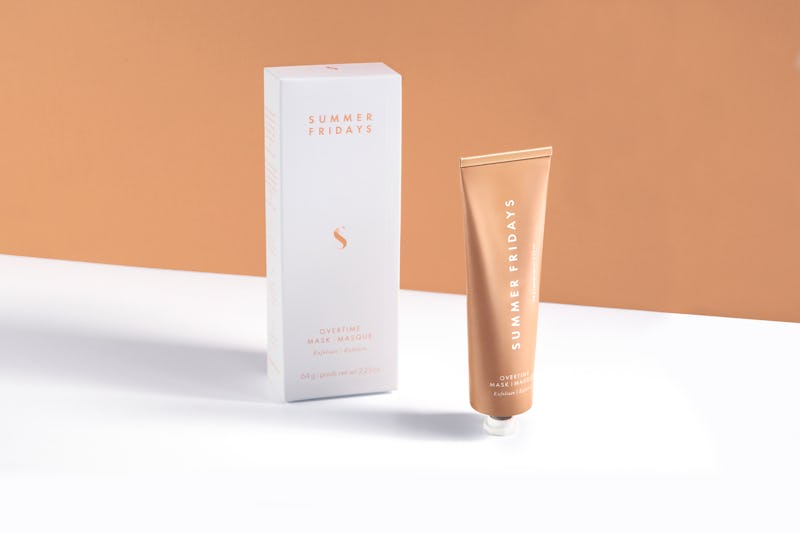 Courtesy of Summer Fridays
The weather may still be stifling where you are, but it's hard to resist the call of pumpkin flavored and scented everything. With the beginning of September comes the beginning of fall, and Summer Fridays' new Overtime Mask may just be the mask equivalent of all those autumnal feelings stirring in your chest. Honestly, it's basically a Pumpkin Spice Latte for your face in the absolute best way possible.
Haven't heard of Summer Fridays? You're hardcore missing out on Sephora's bestselling mask. The original Jet Lag Mask from the brand combats dullness and uneven texture and hydrates the skin all at the same time. Plus, there are multiple ways to use it. Wear it as a traditional mask for ten minutes and wipe it off (no need to rinse) or put on a thicker layer and use it as an overnight sleeping masking. It's a brand new definition of multi-masking.
Now, the brand (founded by bloggers and influencers Mariana Hewitt and Lauren Gores Ireland) has created a sister mask to their original, and it's all about using pumpkin as one of the key ingredients to give you clarified, gorgeous skin even when it's not one of those glorious summer Fridays.
When and where can you shop this pumpkin-filled mask? Good news, skin care fans! The Summer Fridays Overtime Mask is available right now. As for where to shop, it's available at Sephora and the Summer Fridays website.
There's actually even more good news about the product. If you've tried and fallen in love with the brand's original Jet Lag Mask (and you probably have), the new Overtime Mask is actually slightly more affordable ringing in at $44.
Why pumpkin, though? No, Summer Fridays didn't include pumpkin in their mask because of fall. It's actually because of just how incredible the ingredient is for your skin. According to the brand's website, pumpkin is actually packed with vitamins and minerals like vitamins A, K, and C. Plus, the ingredient helps to exfoliate and hydrate your skin. Basically, if you're looking for a new skin care product that will exfoliate without drying out or stripping your skin, this is it.
Of course, the new mask includes more than just pumpkin. Inside, skin care lovers will also find ingredients like apricot seed powder to help exfoliate and oat kernel protein to hydrate and sooth the skin. Basically, this mask is a one-stop masking shop for your face.
The other benefit to the Overtime Mask? If you are already the proud owner of the Jet Lag Mask, you can use them in conjunction with one another to take your glow to the ultimate next level.
If you want to shop the new Summer Fridays Overtime Mask and embrace even more pumpkin things for fall, it's available right now at the Summer Fridays website as well in Sephora and online. With fall and winter well on their way, now has never been a better time to start embracing products to help your skin glow, and Summer Fridays is definitely the place to start.