Paul Mescal Wears A Real Life Connell Chain While Running & You Can Still Buy It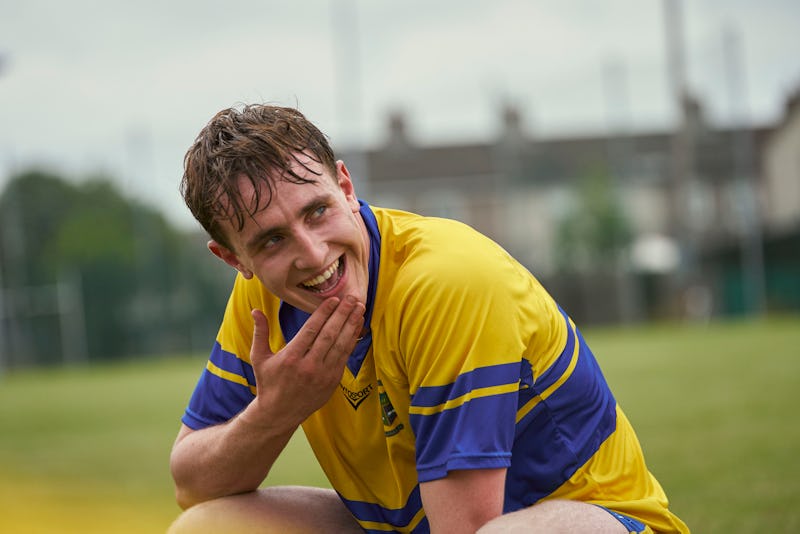 BBC/Element Pictures/Hulu
Normal People achieved record-breaking ratings for the BBC. It's been one of the most successful shows to come out of lockdown and has been the hot topic of all my group chats since it first aired. While Paul Mescal and Daisy Edgar-Jones' sensational portrayal of Marianne and Connell has earned them a massive fanbase, we all know there was another star of the show. The chain. Connell's actual chain is currently being actioned for charity, but it turns out Mescal is also a fan of the necklace IRL. As the trend continues, and sales of similar chains skyrocket, here's where to buy the exact chain that Paul Mescal wears.
Mescal's fame is now at a level where he can't do a lot without people noticing. On May 23 pictures emerged of the Normal People star on a socially distanced run in east London, wearing a pair of white shorts, black trainers, and a pendant chain. Different in style to the chain Connell wore on screen, Mescal's is by fine jewellery designer Otiumberg, who reposted the picture on Instagram with the caption: "He's a fan! When @paul.mescal wears our men's chain @connellschain."
The brand confirmed that Mescal is wearing the Men's Oval Pendant Necklace in silver, with his initials engraved on it – you can own the exact same for £130.
For those who've fallen for the original, glinting at Connell's collar bone – the Instagram stan account currently has 163k followers – you're in good company. According to Lyst, "chain necklace" and "silver" have become some of the most commonly searched terms in relation to male jewellery online. Similarly, jewellerybox.co.uk has seen a 68% increase in the searched term "men's neck chain".
Speaking about the power of the chain, Normal People's costume designer Lorna Marie Mugan told Irish radio presenter Ray D'Arcy, as reported by RTE: "We knew it was there, we didn't think too much about it, but Paul picked up on it straight away. After the first fitting, he said, 'Can I get that chain?'"
Whether you want to borrow from Paul Mescal's style yourself, or buy a chain exactly like his for your S.O., now you know where to go.