Here's Where To Buy The Lilly x Starbucks Bottles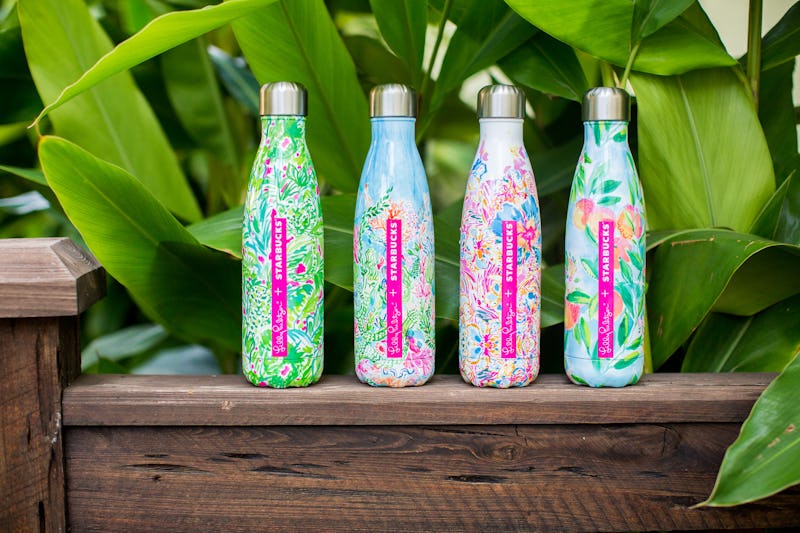 Lilly Pulitzer
In the world of brand collaborations, there's nothing more exciting than when food and fashion come together, and that's exactly what's happening with Lilly Pulitzer x Starbucks bottles. The coffee mega house and the bright, vivid summery designs of Lilly Pulitzer are coming together to create S'well bottles that will be sold in Starbucks stores. The colorful and fun new prints are the perfect way to embrace spring and avoid those unfortunate plastic water bottles.
The Lilly Pulitzer x Starbucks water bottles will feature four brand new patterns from the Pulitzer brand. All four patterns will be hand-painted at the Lilly Pulitzer studio, and they'll be the most envied product among your girlfriends who are obsessed with the resort life brand. As for when and where you can get them, this is a partnership with Starbucks, so they'll of course be sold in 4,000 Starbucks stores nationwide beginning Feb. 15. If you want to snag one, be on the lookout starting the day after Valentine's Day.
As for how much the 17 ounce bottles will cost, they'll run fans of Lilly Pulitzer, Starbucks, and S'Well around $39.95. If nearly $40 for a bottle seems steep, just think about the miracle that is a S'Well bottle. If you've ever had one before, you'll know that not only will this bottle help the environment by helping you avoid plastic, but it will also keep your drink cold for up to twenty-four hours and a hot drink warm for twelve hours.
As for the brand new patterns, they're perfectly Lilly.
1. Palm Beach Jungle
How perfect is this lush print?
2. Resort Escape Floral
Meanwhile, this bottle is a pink, floral dream.
3. Fresh Squeezed
If you want something super fun, this fruity pattern is adorable.
4. Siren's Call
For the truly devoted Starbucks fan, there's Siren's Call — the Lilly take on the classic coffeehouse's image.
If you want to shop the Lilly Pulitzer x Starbucks S'Well bottles, get ready to head to your nearest Starbucks on Feb. 15. These beauties are sure to be snatched up quickly.