This Viral UK Nail Polish Brand Is Finally Coming To The U.S.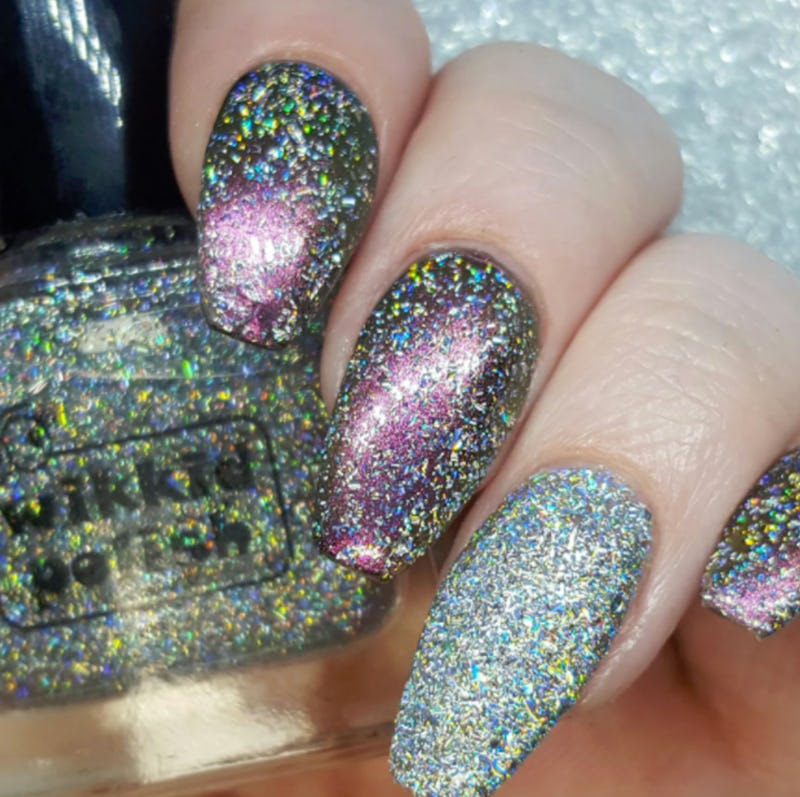 Courtesy of Wikkid Polish
Don't you love discovering non-domestic beauty brands? I sure do. Viral UK nail brand Wikkid Polish is finally coming to the U.S. The brand specializes in glittery, holographic, and multi-chrome nail lacquers that are handmade, cruelty-free, vegan, and 5-free. I mean, what else could you ask for in nail color?
Up until now, Wikkid Polish, which racked up over two million views on a video of its glittery concoctions being mixed and worn, was solely available across the pond in the UK. The polishes will be available at Beautometry, which will serve as the exclusive U.S. sales platform for the brand.
According to the press materials received by Bustle via email, Wikkid has not been available from the UK due to hazardous shipping rules. That is changing, since Beautometry has a specially international shipping certification. More on why that matters in a sec, though!
Translation: If you are a nail art fiend or nail obsessed, rich, glittery, glam,and gorgeous polishes will soon be on their way to your mani and pedi.
The brand is all about that sparkle and posts tons of videos of polishes being mixed and made on its Instagram. Be forewarned. You can spend hours scrolling through the pics and vids.
Wowza, right? It's mesmerizing.
Those colors and that dimension, though!
In case you are not familiar with Beautometry, there are several reasons you need to care and shop the company.
While on vacation, nail-loving founder and owner Therese Vogel encountered a store that sold stamping kits and she stamped a butterfly on her nail. She wanted to purchase holographic nail polish from Australia, but couldn't buy it in the U.S. due to strict hazardous shipping rules. Therefore, she obtained a certification to ship nail polish internationally. Today, 90 percent of her polishes and supplies come from countries outside of the U.S.. Many are small, women-owned businesses, too.
So those are all good reasons to support the company!