Venus Williams Just Updated Her Athletic Wear Line To Include Plus Sizes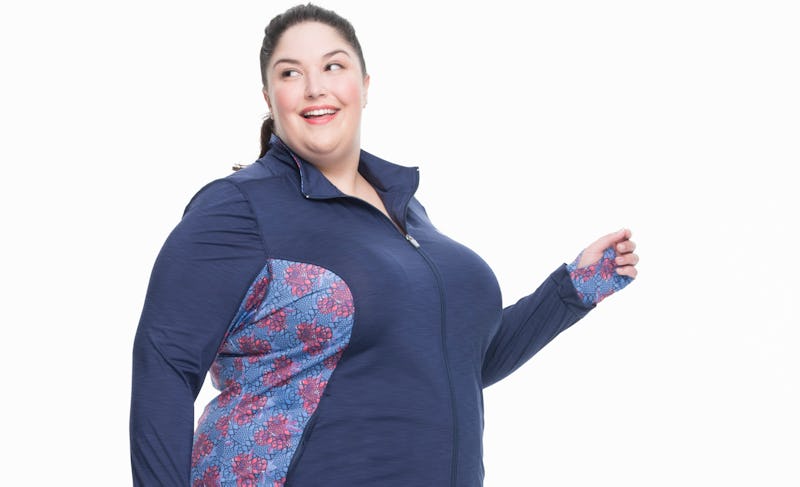 The athleisure and fitness fashion category is about to enjoy a major dose of inclusivity. Venus Williams' EleVen athletic line is now available in plus sizes (offers sizes XS to 3X) for the first time ever. That's a huge victory for the inclusivity movement, which is becoming a fashion standard. The brand owned and operated by the tennis ace and older sister of Serena Williams is dropping the expanded sizing via Dia&Co's Active Boxes.
The Dia&Co retail platform is growing by leaps and bounds with its curated boxes and it exclusively serves women who wear sizes 14 and up. So one might say that Dia & Co is exclusively inclusive! It's also the perfect partner for this six-piece capsule.
The sizes of the new EleVen range run from OX to 3X, with prices starting at $55 and going up to $89. So it's affordable athleisure and workout wear. The collection seeks to solve a conundrum that so many active women who wear size 14+ often face — the lack of quality pieces in their size.
The collection will be available for purchase through Dia Active Boxes as of Aug. 28. Therefore, you can engage in a little end-of-summer and pre-holiday weekend shopping.
Dia is committed to offering its customers quality apparel in plus sizes.
This collection offers so many options for the wearer to work out in — all the while remaining stylish. The partnership also seeks to eradicate the ridiculous and untrue notion that curvy women don't need or want workout clothes because they don't exercise. As if!
So if you are in need of some super cute gym attire, these pieces will answer the call.
"Representation matters," Williams said in a press release. "I wanted this collection to connect with women no matter their shape or size. Dia&Co was the only choice for this. I love what they're doing for women. Their brand identity is all about expression, defining your own rules, having fun while doing it. That's the core of my brand, too. I love that we had the chance to bring EleVen to all women with this partnership."
These are cute pieces you will want to wear while working up a sweat. They are so adorbs that you can totally rock them while doing other activities, as well. That't the point of athleisure and athletic pieces. You can and should wear them to the gym, as well as incorporating pieces into your wardrobe as you wish.
But rest assured that the EleVen x Dia items are so well-made that they will effectively do the job for which they were designed.
This collection won't break the bank and it's super versatile. This floral tank can also be paired with jeans or a skirt. It avails itself of innumerable styling options.
Don't you love the bright pink pop of color? Or how about those front pockets, which keep hands warm on a chilly morning? Those thumb holes are also a unique touch.
This sporty zip up is a cool addition to any wardrobe while the leggings enjoy color blocked detail.
Not only does the model look fantastic — she appears happy and confident wearing the EleVen workout wear.
1. Zip Jacket
2. Hooded Jacket
3. The Tank
4. Capri Tights
5. Regular Length Tights
6. Windsor Pant
The collection is small but focused. It's such a functional and fashionable workout range for curvy girls.