'OITNB' Is Paying Tribute To Poussey In A Powerful Way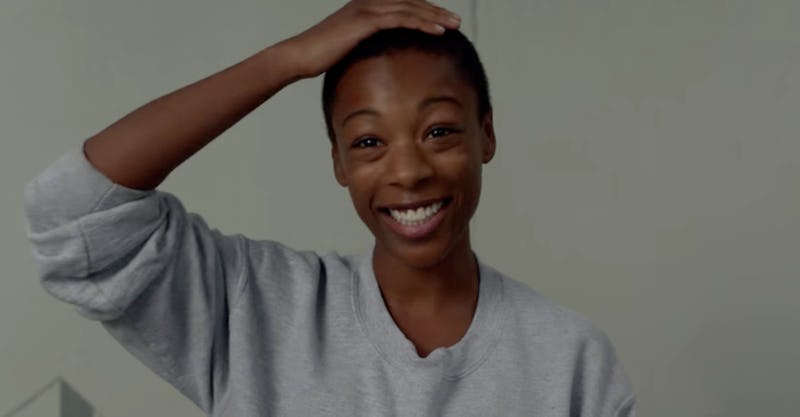 Netflix
The premiere of the newest season of Orange is the New Black may be around the corner, but you're probably not over Poussey's shocking death which occurred last season. Netflix also knows you're still in mourning, which is why the streaming service is honoring Poussey (played by Samira Wiley) with a series of murals in multiple cities around the world. Before June 9, when all episodes of OITNB Season 5 will be available to stream via Netflix, fans can expect to see the murals pop up in New York, Los Angeles, Chicago, Toronto, Melbourne, Sydney, Detroit, and San Francisco. The exact locations of all of the Poussey murals aren't yet know, but, according to the Toronto Sun, one Detroit portrait that was hand-painted by Michelle Tanguay can be found at the corner of Broadway St. and Grand River Ave.
Because of the death of Poussey, aka the fan-favorite to top all fan-favorites, watching Orange is the New Black will never be the same. As you recall, Poussey was killed by one of the many inexperienced guards at Litchfield, and the circumstances surrounding her death led her fellow inmates to start a riot in the prison that very quickly got out of hand during the final moments of Season 4. Her death, though heartbreaking, was necessary in the way that it shined an important light on the Black Lives Matter movement, as she, a black inmate, was killed by a white guard in the same way that too many people of color have been killed at the hands of law enforcement.
"I think it's our responsibility as artists to be able to reflect the time that we're living in," Wiley told the Associated Press after learning that her character would receive a memorial. "She's a fictional character that can elicit real change in thought and action from people."
According to The Hollywood Reporter, the portraits will honor Poussey and feature an Orange is the New Black hashtag alongside the words "Stand Up" — an extremely important message, considering the details of her on-screen death and the irresponsible decisions made by Caputo (Nick Sandow) shortly after.
The newest season of the Netflix original, created by Jenji Kohan, will take place over the course of three days, and the aftermath of Poussey's death is likely to be one of the season's major topics.