You Can Get Dole Whips With Rum At Disney Parks & It's The Perfect Summer Treat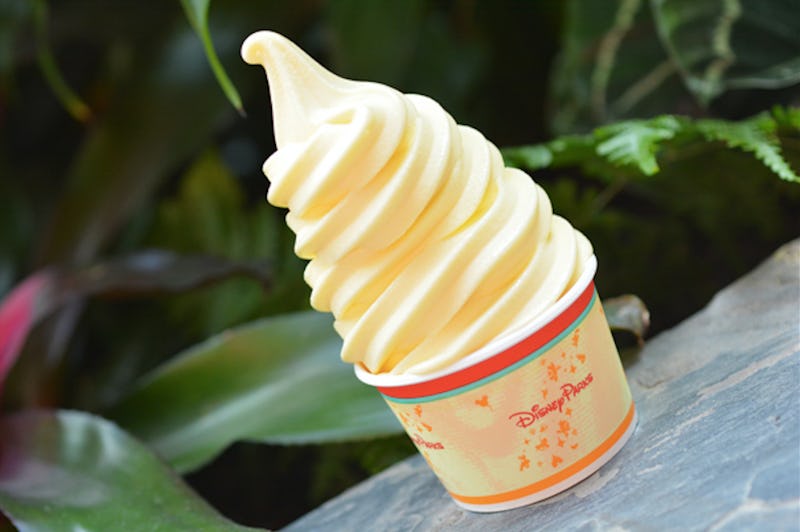 Disney Parks Blog
And now, a vital piece of information for your everyday life: In case you weren't aware, you can order a Dole Whip with rum at the Disney parks. The boozy version of Dole Whip isn't new by any stretch of the imagination; within both Walt Disney World and Disneyland, it's been available for a few years (and outside the parks, people have been pouring rum over pineapple soft serve since time immemorial). But since it's so difficult to find, it often gets straight-up forgotten by even the most dedicated of Dole Whip fans — so here's your guide on where to get Dole Whip with rum at both the Anaheim and Orlando parks. You're welcome.
If you've ever wondered exactly why Dole Whip and Disney seem so inextricably bound, there's a good reason for it: Dole created the treat specifically to serve at Disney parks. Dole took over sponsorship of the Enchanted Tiki Room at Disneyland Park in 1976 (previously, United Airlines had sponsored it; the attraction originally opened in 1963), beginning the relationship between the two companies — and just a few years later, Dole began development on the frozen dessert that would become known as Dole Whip just for Disneyland and Disney World, according to the official Dole Soft Serve blog.
(Side note: I love the fact that a Dole Soft Serve blog exists. That's delightful.)
Reports conflict as to exactly when the treat made its debut at the parks — I've seen 1984 in some sources and 1986 in others — but what we do know is that by the mid-'80s, Dole Whip had arrived at both the Anaheim and Orlando parks… and it was a massive, massive hit. These days, it's certified vegan, according to LAist, so non-dairy folk can enjoy it worry-free.
So where does the rum come in? For many, many years, alcohol was a no-go for most of Walt Disney's creations; Walt himself specified that the parks should remain dry, but as time has gone on, those specifications have become somewhat relaxed. Booze is still tough to find in the original Disneyland Park and at the Magic Kingdom, but it's readily available in most of the other parks and the various Disney resort hotels. As such, it was really only a matter of time before the company finally came up with the idea of offering their iconic Dole Whip with a float of rum poured over the top, and, well… the rest, as they say.
As for where you can get this boozy, tropical treat? Well, it can be… tricky. It sort of comes and goes — for example, a drink called the Captain's Pineapple that was effectively a boozy Dole Whip was offered at the Drop Off Pool Bar at Disney's Art of Animation Resort in 2017, but appears no longer to be on the menu — and some of what you'd think would be obvious locations for it don't actually have it (you won't find it at Aloha Isle in the Magic Kingdom or the Tiki Juice Bar at Disneyland Park; those are strictly booze-free). There are, however, a few mainstays to hit up if you're in the mood for a rum-covered frozen pineapple treat at the Disney parks. Here's where you can get your very own boozy Dole Whip: