Where To Listen To Katy Perry's Brand New Single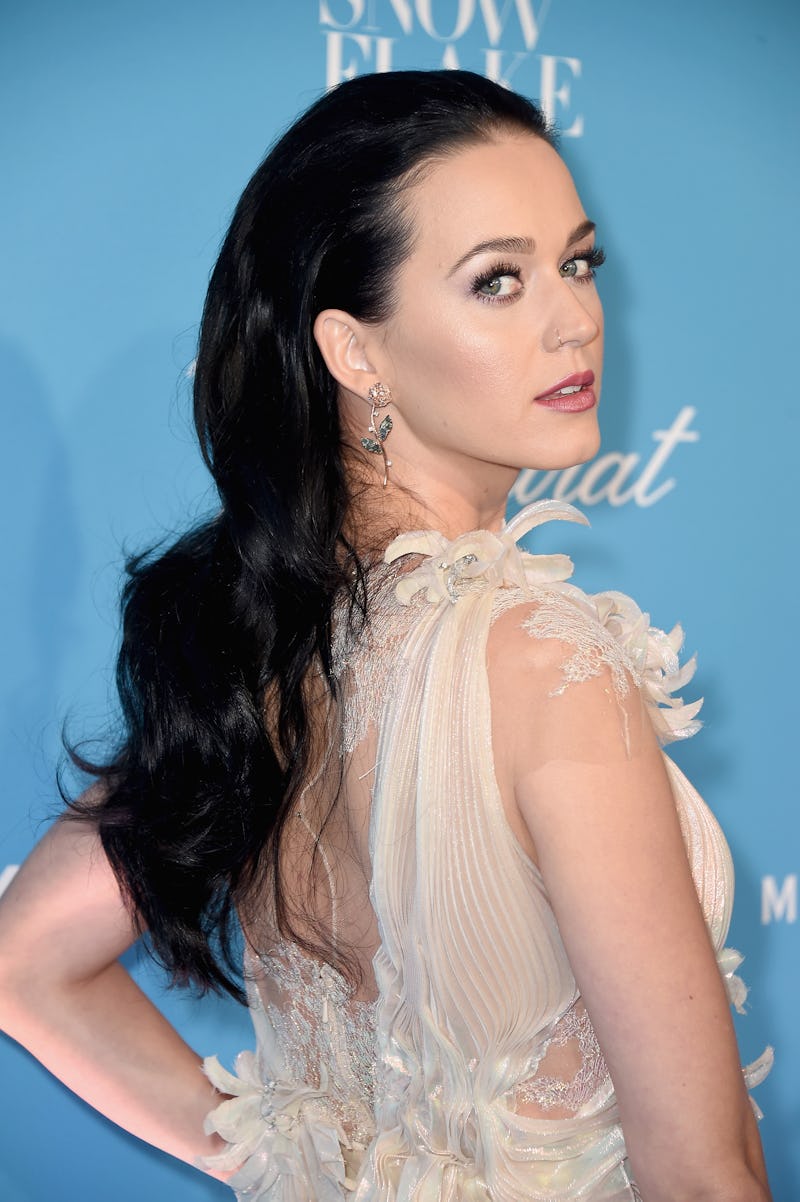 Michael Loccisano/Getty Images Entertainment/Getty Images
If you happen to be a big fan of the singer, then you're likely eagerly anticipating some new music from Katy Perry. You may even be prepared to go some pretty big lengths to hear it, right? How about going outside and using a map to locate some very exclusive disco balls that you can use to hear her new song? Because that's exactly what's happening right now, so you may want to throw your favorite pair of running shoes on and get going. Perry's new song "Chained By The Rhythm" is currently available as part of a cunning disco ball treasure hunt taking place around the world. So, where can you listen to "Chained By The Rhythm"? There are actually a lot of locations across the U.S where you can hunt down these disco balls to hear it.
The first thing you need to know about is that there's an official "Chained By The Rhythm" disco ball map on Perry's website to help you scope out listening locations near to you. The disco balls all appear to be located in parks and chained to benches (presumably by rhythm, right?). From the looks of images shared on the map, and from a Twitter video shared by Perry on Wednesday when the hunt was started, you simply need to connect some headphones to a jack on the disco ball to hear the new track.
There are currently 11 specific locations across the U.S where you can find these disco balls and listen to "Chained By The Rhythm." And because I know you're probably suited up in sportswear already and ready for the hunt, let me save you some map scanning time and share with you where those exact places are:
1. Dolores Park, San Francisco, CA
And, from that picture, I've gotta say it looks like quite the romantic view to be sharing with "Chained By The Rhythm" on that park bench.
2. Griffith Park, Los Angeles, CA
Some locations, like this one, are helpfully positioned nearby specific landmarks to help you navigate your way to them.
3. Crescent Park, New Orleans, LA
Honestly, this looks like the perfect spot to snuggle up and share an ear bud with a honey (or your bestie) in order to take in that view and experience Perry's new song.
4. Bay Front Park, Miami, FL
Not all locations on the "Chained By The Rhythm" map came with helpful pictures. But, in a way, that kind of makes the hunt all the more mysterious and exciting, right?
5. Beltline Trail, Atlanta, GA
One of the more unusual and colorful locations featured, Atlanta's disco ball location may just be my particular favorite.
6. Rose Garden, Raleigh, NC
A picnic bench provides fans with the perfect place to hang out with each other before and after enjoying hearing Perry's new track. I also recommend that Perry fans in North Carolina bring some snacks and juice boxes to enjoy on that table, too. Ssharing is caring, people.
7. McCarran Park, Brooklyn, NY
There's something just so utterly decadent about the image of a disco ball chained up in front of such a beautiful array of foliage.
8. Detroit Riverfront Conservancy, Detroit, MI
If a line forms to hear "Chained By The Rhythm", then Detroit is totally prepared with all those steps.
9. Chicago Theater, Chicago, IL
One of the few listening spots not located in a park, Chicago's "Chained By The Rhythm" disco ball spot is probably the most open and easiest for fans to find.
10. Pappajohn Sculpture Park, Des Moines, IA
From the looks of it, fans in Iowa should definitely wrap up super warm while hunting out this particular disco ball. And, you know, maybe have a little dance to stay well heated?
11. Cal Anderson Park, Seattle, WA
Like the spot in Miami, FL, this one didn't come with a picture on the map. But I'm pretty sure that it'll probably be found chained to a park bench. And, anyway, how hard can it be to find a disco ball in a park?
Hopefully, there's a disco ball playing "Chained By The Rhythm" in a location not to far away from you right now. And, if that's the case, then I recommend lacing up your track shoes and sprinting over to it with your favorite pair of headphones in tow. The hunt is on, you guys.