You Can Still Stream 'Buffy The Vampire Slayer'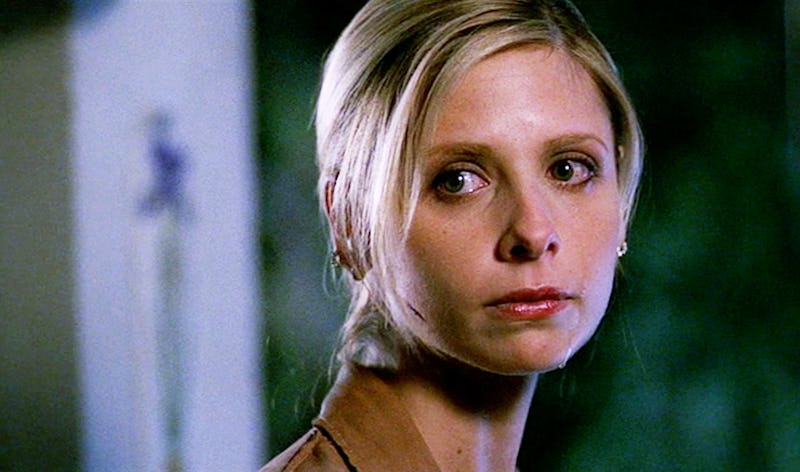 20th Century Fox Television
Fans of the Slayer are currently devastated following news that Buffy The Vampire Slayer might be leaving Netflix at the end of March 2017. After all, the show just celebrated its 20th anniversary and garnered a lot of love and attention as a result. Luckily, Buffy The Vampire Slayer is not being erased from existence entirely, even if it feels that way as this rumor flies, and the show will still be available to watch elsewhere. It's probably time someone investigated where fans can stream Buffy The Vampire Slayer if it leaves Netflix as reported on March 31.
The first, and most obvious choice, is Hulu. If you don't already have a subscription and you're a serious Buffy fan, you might want to sign up pronto, because Buffy The Vampire Slayer is on Hulu with all seven seasons available for your viewing pleasure. This is currently your best, and least expensive, alternative to Netflix, where you can stream the show in its entirety. There are some other options, too, but they're a little more costly and will make you question just how big a fan of Sarah Michelle Gellar's vampire slayer you really are. (Hopefully, the answer is always "THE BIGGEST," but, hey, I don't know your life.)
If you're ready to purchase every episode of the classic series so that you can watch them for all of eternity, there are several places to choose from. Individual episodes of Buffy The Vampire Slayer on iTunes will set you back $1.99 each, or $19.99 per season. Although this route is costly, it gives you unrivaled access to Giles and the gang. For the same price, episodes are available on Amazon, too.
A Fullscreen subscription on Amazon will also give you unbridled access to Willow and Xander for just $5.99 a month. Thank goodness there are still so many options for watching Whedon's best work. Of course, if you're ready to just go ahead and marry Buffy Summers, then a DVD box set is the way to go. It may seem retro, but it's the only way you can hold Buffy The Vampire Slayer in your hands and own it forever. Unless you still have your VHS copies, that is.
Whatever you decide, rest safe in the knowledge that Buffy The Vampire Slayer will be with us for many more years to come. Amen.