9 Movies To Stream Right Now If You're Obsessed With 'Call Me By Your Name'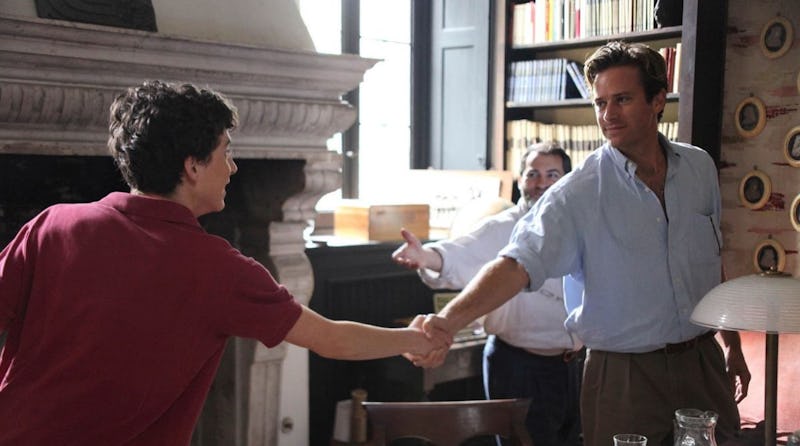 Sony Pictures Classics
The Academy Award for Best Picture nominees for 2018 represent a wide variety of films, from the societal horror film Get Out to the monster movie romance The Shape of Water to the World War II epic Dunkirk. Naturally, fans want to watch every single one of these films before the Oscars take place on March 4, and that includes the LGBTQ+ coming-of-age romance Call Me by Your Name. But finding out where to stream Call Me by Your Name isn't as easy as one might hope.
Since the movie was released so recently, having hit theaters in the U.S. just three months ago on Nov. 24, 2017, the film is not yet available on subscription-based streaming services like Netflix or Hulu. Nor is it airing on premium cable networks like HBO and Showtime. In fact, you can't even go out and buy the film yet on Blu-ray or DVD yet — it's slated to be released on March 13, according to Amazon, over a week after the Oscars air.
So then, how does one go about watching the movie without heading to the cinema? Right now, your only option is to purchase the movie digitally. The film saw digital release on Feb. 27, and is available to purchase from sites like Amazon and iTunes for $14.99, and likely won't be available as a digital rental for another several months. So basically, if you want to watch Call Me by Your Name before the Oscars, you're going to have to spend around 15 bucks, either on a movie ticket or on a digital copy of the film that you get to keep forever.
If you don't want to spend that kind of coin but are interested in seeing films that are similar to Call Me by Your Name, then you should instead check out some of the movies below that are available to stream for far less.