Here's What To Know About 'The Simpsons' Apu Controversy & The Powerful Doc That Inspired It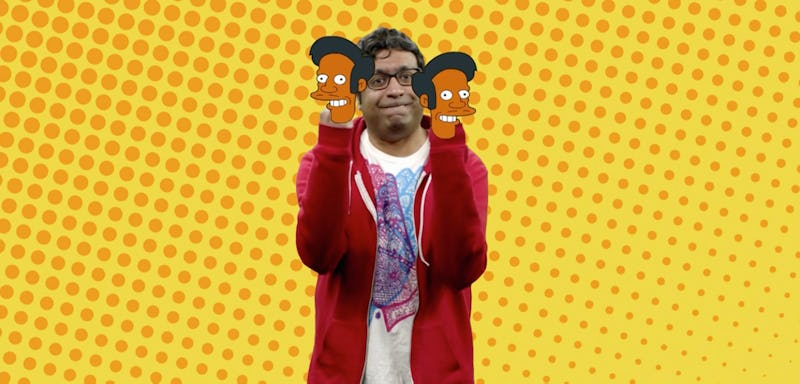 truTV
Everybody's talking about Apu. The Simpsons' Springfield convenience store owner, who speaks with an exaggerated Indian accent, has been the subject of controversy for almost 30 years. The Fox comedy has responded before, but never so directly, yet in the recent Season 29 episode, "No Good Read Goes Unpunished," the criticism was finally addressed head-on. And a major reason why is a film by comedian Hari Kondabolu, a documentary called The Problem with Apu streaming now and gaining plenty of attention for its criticism of The Simpsons' infamous character.
The show's apparent response to The Problem with Apu has left many viewers scratching their heads. At the end of the episode, which revolved around Marge struggling to deal with the realization that a book she loved as a child was actually really racist, Lisa dismisses the criticism as a cry for "political correctness." Kondabolu responded to the episode on Twitter, writing, "The Simpsons response tonight is not a jab at me, but at what many of us consider progress." His critique gets to the heart of why The Simpsons' response is so offensive: it ignores the pain of others for the sake of self righteousness.
For those not familiar with Kondabolu's documentary, know that The Problem with Apu is not an hour-long attack on the character himself, nor is it a vilification of The Simpsons. Kondabolu's film uses Apu to examine the broader stereotypes of South Asians in Hollywood, and show how harmful they can be. As he says in the documentary, "Apu reflected how America viewed us: servile, devious, goofy."
The Problem with Apu premiered on truTV in November 2017, and it willwill have a special encore airing on truTV Sunday, April 15, the same night as The Simpsons. If you miss it then, you can always catch it on demand via your cable subscription or rent it on Amazon and iTunes. It's absolutely worth the watch; complete with interviews with famous South Asian American entertainers like Kal Penn (Harold & Kumar), as well as Simpsons writers and other entertainment professionals, the doc follows Kondabolu as he explores how Apu came to be and why the racism inherent in the character is so sinister. It also embarks on a quest to try to get Apu voice actor Hank Azaria (a white man) to retire the accent.
Part personal testimony, part cultural analysis, and part quest to speak Azaria, The Problem with Apu is effective because it approaches the broad topic of racist stereotypes in media through a personal story. Part of the reason Kondabolu is examining Apu is because, as he mentions in the doc, he experienced bullying due to the character and sees Apu as directly making fun of people like his parents, who are immigrants. In fact, many comedians featured in the documentary mention being called "Apu" by bullies at school. "This one character created so many problems psychologically, emotionally, for so many people," says Utkarsh Ambudkar (The Mindy Project), who voiced Apu's Indian American nephew in a 2016 episode of The Simpsons.
As the only South Asian representation on American television at the time of his creation, Apu was more harmful than The Simpsons' stereotyping of Mr. Burns, the millionaire character, for example. One particularly poignant scene in the documentary features an exchange between Kondabolu and former Simpsons executive producer and writer Dana Gould, in which Kondabolu attempts to explain this inconsistency. The power discrepancy between rich viewers and South Asian viewers is seemingly lost on Gould, who says that the Simpsons writers room views both stereotypes as equally offensive, and thus within an acceptable threshold of offensiveness for national television.
"No Good Read Goes Unpunished" unfortunately emphasizes Gould's point and takes it one step further, showing that no matter how well reasoned or well illustrated Kondabolu's argument against Apu is, The Simpsons isn't willing to hear it. But maybe they should. The writers should consider checking out The Problem With Apu when it airs again on April 15 — they might just learn something invaluable.