O.J. Simpson Requests To Live In Florida At His Parole Hearing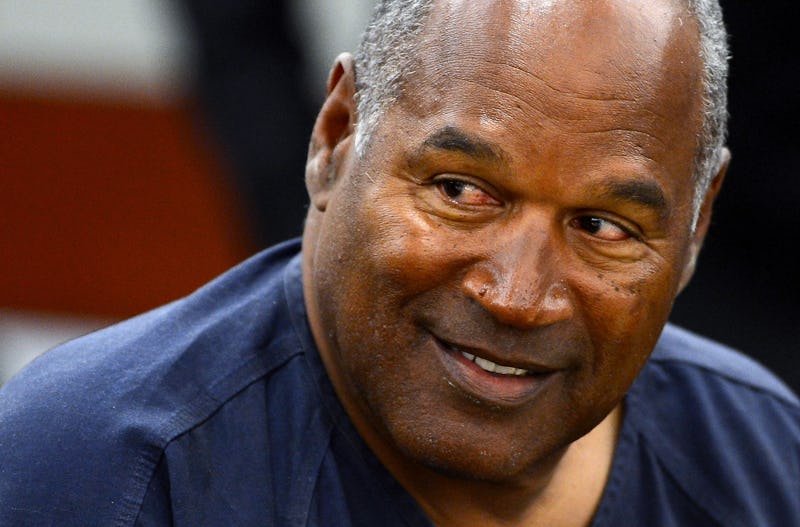 Ethan Miller/Getty Images News/Getty Images
For the past nine years, former football star O.J. Simpson has called the Lovelock Correctional Facility in Nevada home. But, that changed on Thursday after Simpson's hearing in front of Nevada's Board of Parole Commissioners. The 70-year-old Hall of Famer, who served nine years of a nine-to-33-year sentence for his role in an armed robbery in Las Vegas in 2007, was granted parole and could be released from prison as early as October. Simpson has requested a relocation to Florida, according to the Nevada parole board.
Update: According to The Washington Post, Florida Department of Corrections officer Michelle Glady said that the state "must accept" Nevada's request to supervise Simpson under his parole conditions if the request "meets all needed criteria."
"I could easily stay in Nevada but I don't think you guys want me here," Simpson said with a laugh during the parole hearing.
Prior to his arrest, Simpson owned a home in the Sunshine State — a 4,148-square-foot, four-bedroom, four-bath property located in the neighborhood of Kendall, just south of Miami. He lived in the Florida suburb for nearly a decade with his children, after being acquitted of the murders of his ex-wife, Nicole Brown Simpson, and her friend Ron Goldman. His two youngest children were enrolled in a prep school in the area.
In 2001, federal and local law enforcement raided the house in connection to an investigation involving ecstasy, according to the Miami Herald. However, Simpson was never charged or arrested. He lived in Kendall until his 2008 arrest, and the home was foreclosed by JPMorgan Chase Bank in 2012. It is currently on the market for nearly $1.3 million.
In addition to Florida, there have also been talks that Simpson could potentially call California home upon his release. Simpson's friend Tom Scotto told The Washington Post that the former football player plans to move in with him in Florida, before either buying a house or moving in with his sister in Sacramento.
The chairwoman of the parole commissioner declined to comment regarding Simpson's request for a move to Florida.
Regardless of Simpson's final destination, the new location will be a welcome change from life as a prisoner at the medium-security prison in Nevada.
However, his time at Lovelock also wasn't exactly like Orange Is the New Black. Instead, and according to former guard Jeffrey Felix in an interview with USA Today Sports, the prison is more like a "cruise ship with barbed wire." Amenities included a gym, sports fields, ping pong tables, and, of course, Simpson's own 13-inch flat screen television.
Simpson was convicted in 2008 of armed robbery, kidnapping, assault, conspiracy, burglary, and coercion after he and five others, two of whom were armed, allegedly robbed two sports memorabilia dealers at gunpoint in a Las Vegas hotel room. He is notoriously known for being acquitted in 1995 for the killing of his ex-wife, Nicole Brown Simpson, and her friend Ron Goldman.