Juicy Couture Is Launching A Makeup Line & It Goes Perfectly With Your Tracksuit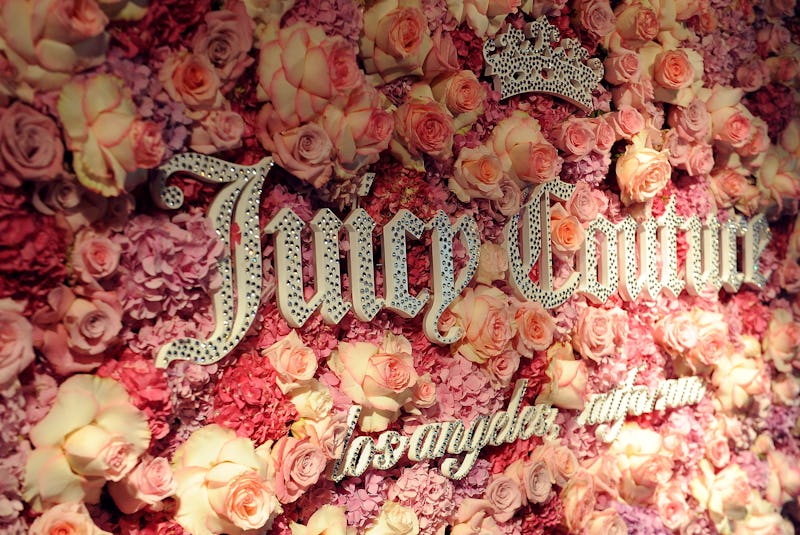 Angela Weiss/Getty Images Entertainment/Getty Images
Break out your rhinestones and sequins folks, because do I have some nostalgic news to throw at you. While some of us have been tripping over our feet just trying to stay caught up amid abrupt beauty launches, Juicy Couture has been plotting a makeup line that'll make you "eeeek" with excitement. In its first limited edition cosmetics line, the Juicy Couture Color Collection is delivering to fans beauty products that perfectly coincide with the brand's legendary tracksuits.
Taking a huge step forward in beauty, which had began with its Oui Juicy Couture fragrance, Juicy Couture takes this cosmetic line in a more playful direction. Grabbing some inspo from the perfume, JC is about to bring the fire with an eyeshadow & highlighter palette and a glitter velour lipstick. There's said to be more products joining the beauty fam, so keep your shopping carts open, people.
The entire line doesn't officially launch until October 1st in stores at Macy's, so patience will have to be your pal for now. On the plus side (yes, a plus side awaits), you can order the palette and glitter lipstick online now until the full line is released.
What we know so far is that the Juicy Couture Oui Glitter Velour Lipstick comes in 5 very cheeky shades, so there's probably one for every slick chick. "Girls Stuff" is a deep pinky red color, "UV Darling" comes in a bright purple, "Happily Ever After" gives us peach nude vibes, "Not Your Babe" comes as a hot pink, and "Ripped and Zipped is a deep muave. Knowing me, I'll probably snatch all of them because, hello! It's a must that retails for $18.
But oh! The eyeshadow and highlighter palette will make your knees quiver at the sight of it. Can we also just take a moment to appreciate all this shimmer, please?
The Shady Eyeshadow & Highlighter Palette contains a wide range of shimmers to choose from to give any eye look some extra "umpf". An eyeshadow palette with a combination of warm and cool tones is sure to be a crowd favorite, but we're talking Juicy Couture here. It'll be fabulous.
Now that Juicy Couture's provided the shimmers to pop our satin matte shadows (or maybe you're bold enough to only use this palette), we're excited to see what other makeup goodies are hiding behind that pink print.