Here's Why Bieber Skipped The Grammys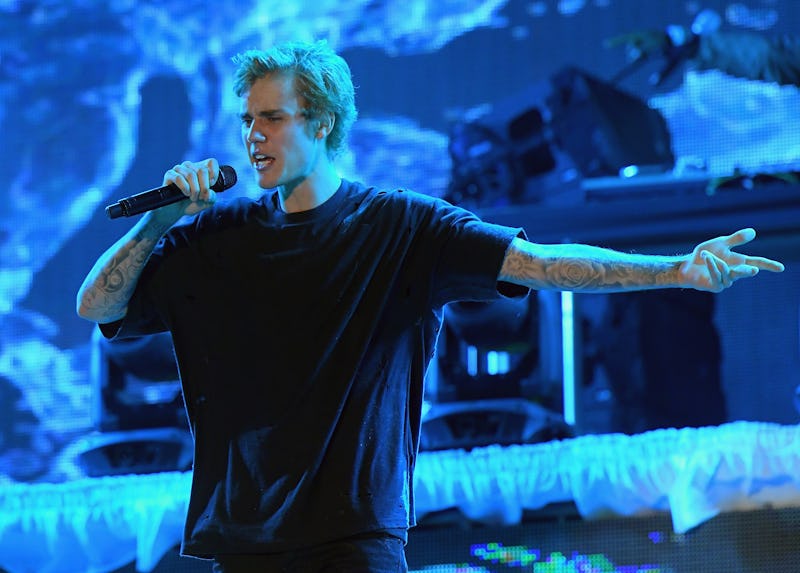 Gustavo Caballero/Getty Images Entertainment/Getty Images
Although the 2017 Grammy Awards bring out some of the most notable names in music, like Beyonce, Adele, Katy Perry and John Legend, a few major stars appear to be missing from the show. Taylor Swift, for one, is absent, as is Kanye West — but the most mysteriously M.I.A. celeb is none other than a certain "Sorry" singer. But just where is Justin Bieber during the Grammys, if he's not at the actual show?
Bieber is up for four Grammys at this year's show: Song of the Year and Best Pop Solo Performance for "Love Yourself," and Best Pop Vocal Album and Album of the Year for Purpose. One would think that if you were up for awards, you'd want to be in attendance, but that's not the case for Bieber, who reportedly made it clear in January that he had no plans to attend the Grammys.
According to TMZ, Bieber reportedly decided not to attend the Grammys because "he just doesn't think the Grammys are relevant or representative, especially when it comes to young singers." (Bustle reached out to Bieber's reps for comment, but didn't receive a response.) Bieber himself hasn't commented on his absence from the show, so it's possible he just decided to stay home and watch the show from the comfort of his living room. But if he did truly decide to miss the show because of his feelings about it, he wouldn't be alone. Kanye West and Frank Ocean both also aren't attending the Grammys due to their negative feelings about it. So if that's really why Bieber is M.I.A., at least he's in pretty good company. And no matter what his reason for missing the show is, it seems like he's having a good time at home, as Bieber posted an Instagram earlier on Sunday showing him snuggling with a young family member.
Awww. Bieber's presence will be missed at the Grammys, but it's sweet to see him spending his time away for the show bonding with loved ones.