Justin Bieber Is Reportedly Boycotting The Grammys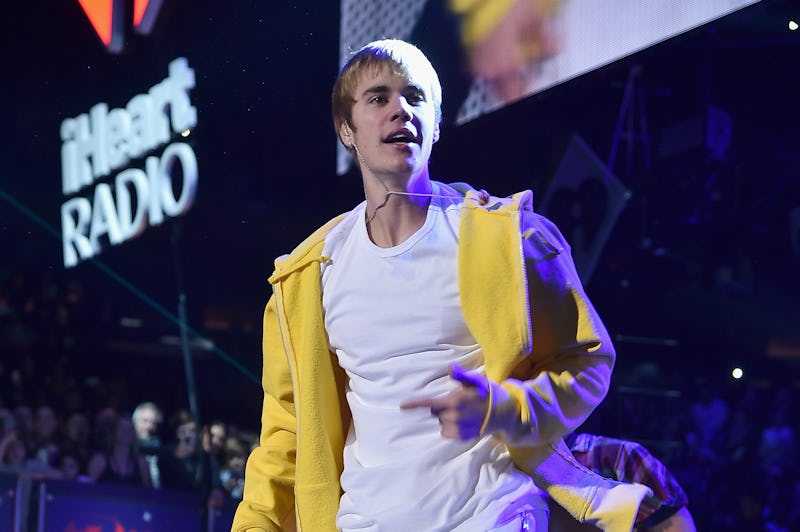 Theo Wargo/Getty Images Entertainment/Getty Images
Despite being nominated in four major Grammy Awards categories, including Album Of The Year and Song Of The Year, TMZ is reporting that Justin Bieber is boycotting the Grammys. If you're currently broken-hearted over that news and angrily asking why Bieber isn't attending the Grammys while shaking your fist at a cloud, just be cool. He might actually have a good reason. According to TMZ, who shared the unconfirmed report from an unnamed source, Bieber might not be attending the Grammys because, "he just doesn't think the Grammys are relevant or representative, especially when it comes to young singers." Bustle reached out to Bieber's representatives for comment, but did not receive an immediate response.
TMZ's source also alleges that there's no "real anger, regarding the awards show, but that, allegedly, the feeling is that a lot of younger singers simply find the Grammys to be out of touch and irrelevant. Interestingly enough, the same article is suggesting that Kanye West is also boycotting the Grammys, which will come as no surprise to fans of the artist; back in October 2016, West vowed to boycott the Grammys if Frank Ocean wasn't nominated for an award.
The absence of Grammy nominations for Ocean, however, is due to his visual album, Endless and Blonde, not being submitted for consideration before the September deadline. In an interview with the New York Times, Ocean explained his Grammys decision by stating that the awards, "just doesn't seem to be representing very well for people who come from where I come from." He added, "the infrastructure of the awarding system and the nomination system and screening system is dated."
Due to the unconfirmed nature of the report, however, it's difficult to speculate whether Bieber is apparently boycotting the awards as a possible show of support to Ocean (who has previously worked with Bieber), or whether it could be due to the singer's personal frustrations with the awards show.
After all, prior to his four 2017 Grammy nominations, Bieber has only ever received three previous nominations from the award institution since 2011. Of those three, Bieber won his first Grammy in 2016 for "Where Are Ü Now" in the category of Best Dance Recording. By comparison, Bieber's career has managed to cultivate 14 American Music Awards which resulted in 12 wins, 26 Billboard Music Awards, resulting in 14 wins, and 19 Juno Awards, resulting in seven wins. By this logic, the suggestion that Bieber may be boycotting the award show makes some sense.
Having said that, should this particular rumor be true, then 2017 feels like a peculiar year for Bieber to opt out of the Grammys. Not only is he enjoying the largest amount of Grammy nominations of his career, but those accolades are also in four major categories. Hmmm.
Whatever the truth is, there's no denying that Bieber is a massive draw for young audiences wanting to tune into the Grammy awards. If he is actually boycotting the event then it could be a massive loss for everyone.