Gus Will Put His Mark On 'Better Call Saul' In A Big Way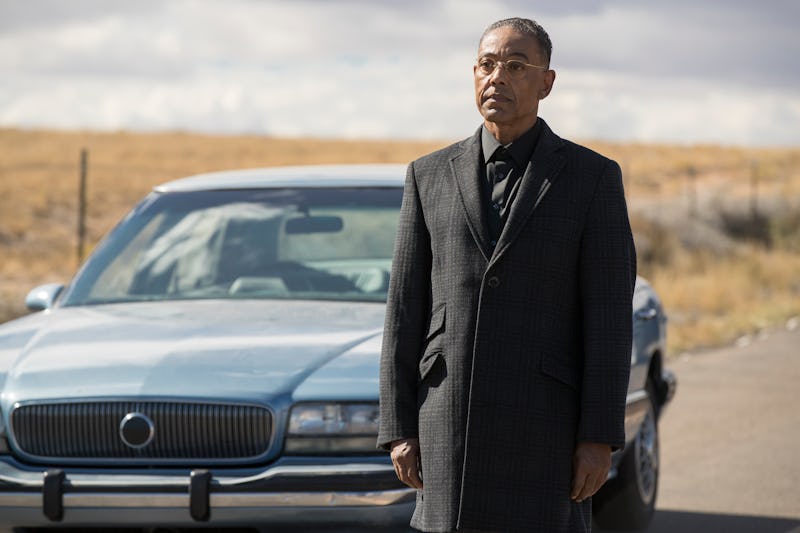 Michele K. Short/AMC/Sony Pictures Television
Part of the appeal of Better Call Saul is picking out the pieces of the universe that are recognizable from Breaking Bad, from locations to supporting characters and all the tiny details in between. Soon, a very familiar face will pop up in Albuquerque. Gus Fring will be in Season 3, but how the character played by Giancarlo Esposito is incorporated will majorly influence whether Better Call Saul remains a slow-burn character piece about Slippin' Jimmy McGill or gets kicked into high gear, forcing Jimmy to become finally become Saul Goodman. So which Better Call Saul episodes will Gus be in?
The Albuquerque crime world is small, so it was only a matter of time before Gus and Jimmy McGill crossed paths. While Gus has been a criminal mastermind for a long time when he shows up on Breaking Bad, Jimmy has only ever dealt in small-time cons. But as fans of the original show know, the lawyer formerly known as McGill is the one who introduces Walter White to Gus Fring, meaning they'll be very familiar to each other by the time Better Call Saul ends. While some other Breaking Bad characters have only stopped by for a scene here and there, it looks like Gus could be here to stay for the remainder of Better Call Saul.
The return of Gus and Esposito is big news for Better Call Saul fans and rightfully so. But while the writers could have sneaked Gus into an episode and had his appearance be a surprise, the marketing surrounding the third season indicates that Gus is going to be a major part of it. In an interview with Vanity Fair about his hopes for this early version of his Breaking Bad character, Esposito said, "I wanted Gus to have some qualities of being a little greener; I wanted to see him grow into being the kingpin that he is, and I want to know more about his past and how he got to where he is now."
Esposito's description of how Gus is portrayed in Better Call Saul makes his participation sound far more involved than just a few cameo appearances. Gus Fring could be another major character alongside Breaking Bad's Jimmy McGill and Mike Ehrmantraut, as well as original characters such as Kim Wexler and Jimmy's brother Chuck. Gus' entrance probably won't be immediate or explosive, but instead will happen over the course of a few episodes, much like the character's introduction in Breaking Bad. That's just one of many characteristics of the criminal that could be coming to the prequel. If Gus Fring wants to take his time, he will.
Gus' cheerful exterior hides a menacing personality. That will be a perfect addition to Better Call Saul, which has created a world of characters who live their lives on two sides of the same coin. Jimmy may be a lawyer, but he's still got Slippin' Jimmy in his heart — just like Chuck McGill is a seemingly great man desperately striving to sabotage his own brother. No character in all of the Breaking Bad universe is better at turning on that dime, however, than Gus Fring. And fans would be very happy to get a heaping helping of the Chicken Man in Season 3.