Which City Will Winter Storm Stella Hit First?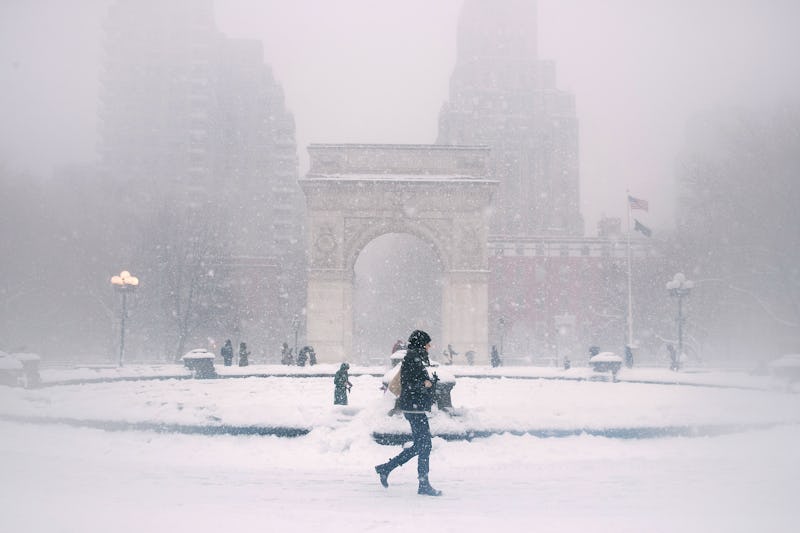 Drew Angerer/Getty Images News/Getty Images
One week before Spring officially begins, nature has decided to embrace winter one more time. On Monday night, Winter Storm Stella is heading for the east coast, with the worst expected for Tuesday morning into the afternoon. While February was filled with many unusually warm days, Winter Storm Stella is on track to be one of the largest March snowstorms on record. USA Today reports that more than 19 million people live in areas with a blizzard warning.
The effects of the storm have already been seen in the Midwest with 5 to 9 inches of snow falling across parts of South Dakota, Iowa, and Minnesota, which reported 13 inches of snow, on Sunday. Monday brought snow to parts of Illinois, Indiana, Ohio and Michigan. Chicago has also been hit following a January and February where snow never even accumulated to an inch, a first for the city.
On the east coast, snow will begin in the Washington D.C. area around 9 p.m. Monday night with an expected four to eight inches in the nation's capitol. Slightly north, Baltimore is the next target with an estimated 6 to 10 inches of snow. Heading up the coast, Philadelphia could receive about 8 to 14 inches of snow.
The expected heart of the storm is just past Philadelphia, with a blizzard warning issued for northeast New Jersey, the southern tip of New York, including New York City and a majority of Long Island, and southern Connecticut. A blizzard watch is in effect for eastern Massachusetts and part of Rhode Island.
How Much Snow Are We Getting?
Both New York City and Boston are estimated to accumulate 12 to 18 inches of snow. Overnight Washington D.C., Baltimore and Philadelphia could have up to 1 to 2 inches of snowfall per hour. It's expected to increase to 1 to 4 inches per hour once in reaches New York City, in the early hours of Tuesday.
On top of the large levels of snowfall, winds could reach up to 50 mph in New York and southern New England. Along the Jersey shore there is a chance winds might reach 60 mph.
Airlines Are Canceling Flights Already
So how are airlines reacting to the upcoming storm? According to the website Flight Aware, as of Monday at 1:30 p.m., 1,924 flights have already been cancelled today, along delays on 3,961 flights.
WTF Is This Weather?
It's important to remember that these extreme fluctuations in weather are not normal. New York City storms have been tracked since the late 1800s and, if the storm's predictions are correct, after Tuesday, eight of the 10 biggest March storms will have taken place since 1996. Scientists believe the climate change's effects in the Arctic are to blame for the increase in Northeast based storms.
If the storm turns out as bad as it's predicted, use it as an opportunity to veg out and have a much needed break. Grab the essentials for safety and watch the storm pass.