'Grey's Anatomy' Is Bringing Another Ripped-From-The-Headlines Story To Life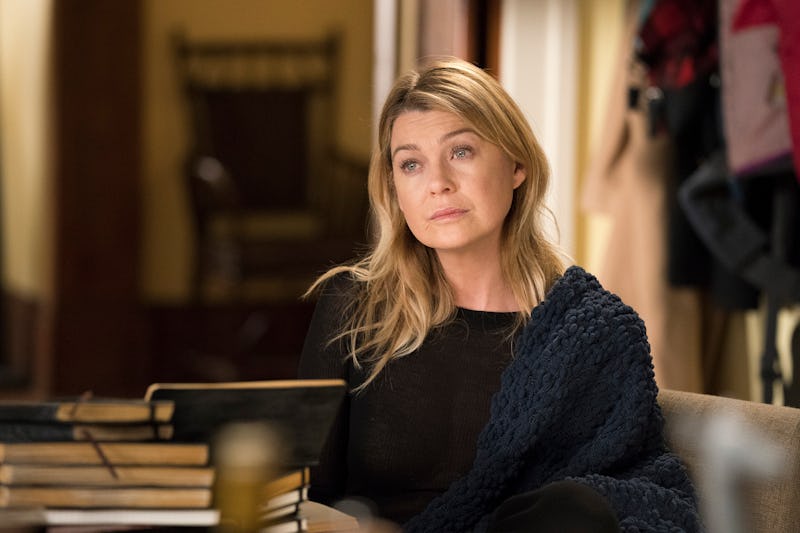 ABC
In the promos for Thursday's Grey's Anatomy, a new entity infiltrates Grey Sloan Memorial Hospital, and it's unclear what exactly the Immigrations and Customs Enforcement is doing there. Apparently, someone working in the hospital has an immigration status that's being questioned, so which doctor is ICE looking for on Grey's Anatomy?
There's really no telling whom ICE is swarming Grey Sloan Memorial Hospital for — given how little viewers know about the backgrounds of the new interns or some of the secondary characters, it could be anyone. The agent assigned to the case does tell Bailey that it's definitely a surgeon, and apparently he suspects Bailey of lying to him about the circumstances of this doctor's presence. If she's lying, he tells her, she's breaking federal law. "If you run, you're a criminal," Meredith tells an unknown person offscreen. "You can't run."
The episode is also entitled "Beautiful Dreamer." Given the subject matter of the episode, that title could allude to the DREAM Act, which according to CNN would grant a green card to all recipients of the Deferred Action for Childhood Arrivals (DACA) program. The DREAM Act was introduced in 2001 but failed to pass. Now, DACA recipients — residents of the country who were brought into the U.S. illegally as children — are now commonly referred to as "Dreamers," according to the Wall Street Journal.
DACA has been all over the news recently as Congress debates the best way to grant these Dreamers a path to bona fide citizenship, and since Donald Trump's ascent to the presidency, immigration in general has been a hot button issue. The New York Times reported last year that since Trump took office, ICE is reportedly no longer encouraged to focus their deportation efforts on those immigrants who are criminals — now, they're reportedly "newly emboldened" and arresting people with no criminal record at a higher rate than in Barack Obama's presidency. It's been a controversial issue to say the least, with protests breaking out against the possible arrests and deportations of veterans, journalists, and community figures.
It seems that the situation would be a similar case for Grey's Anatomy's surgeon, whoever he or she may be. They likely wouldn't have a criminal record — at least not a severely troubling one — if they were recently hired at such a prestigious hospital. And, on that note, there has been some seriously shady business going down at Grey Sloan for years and everyone has made it out relatively unscathed — Alex almost beat DeLuca to death but now is back to healing cute kids, Richard operated while straight up drunk, Izzie cut a damn L-VAD wire to essentially steal an organ for her boyfriend, and Meredith tampered with Derek's Alzheimer's trial. About a third of these doctors would probably be in jail or without a medical license if this show played things closer to reality, so hopefully whatever doctor is in question this week will find a way to make it out OK.
Grey's Anatomy is known for mirroring real-life social issues in its patients' plotlines, and sometimes even in its doctors'. Jo's recent conflict with her estranged husband highlighted domestic violence, Grey's has delved into transgender medical issues, and earlier this season the show took on police violence and racial bias. The show has also championed a diverse cast since the pilot episode, and creator Shonda Rhimes is not one to shy away from taking on big storylines. No matter who ends up being affected by the ICE presence at the hospital, the story will likely reflect some of the reality that actual people are facing in this current political climate — and serve as a big lesson to audiences about what immigrants endure in the U.S.