Grace Will Have To Face Her Past When This 'Will & Grace' Guest Star Shows Up In The Revival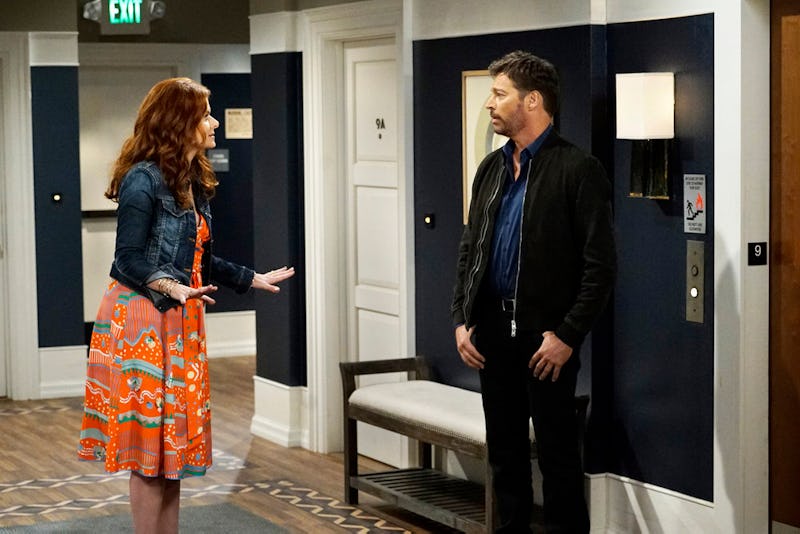 Chris Haston/NBC
Now that the long-awaited Will & Grace revival is about to premiere on NBC, fans have been clambering to get their hands on any information before the Sept. 28 debut, especially when it comes to returning characters. So, which Will & Grace episodes will Leo appear in? Fan favorite Harry Connick Jr. is confirmed to be briefly returning for his role as Grace's ex-husband Leo. He won't be joining the revival as a full-time cast member, which makes sense. Because as Entertainment Weekly reported, the revival is not working off of the series finale, where Grace and Leo ended up married again and raising a daughter together.
It looks like, as of right now, Leo will at least be in one episode of the revival. Harry Connick Jr.'s appearance will be in Episode 3, titled "Emergency Contact," according to episode photos on the NBC press site. What will bring Leo back into Grace's life after all this time? That remains to be seen, but the episode title itself could be a clue.
This exciting news was officially confirmed when Instagrams from the cast revealed that Connick Jr. was back on the Will & Grace set back in August. Debra Messing posted an adorable photo of herself and Connick Jr. from set, with a caption that reads, "Time to swooooooonnnnn. Yup! He's backkkkkkkkkkkk. That southern gentleman that stole all of our hearts-@harryconnickjr . There will never be another Leo."
She posted a similar photo of the two of them again about a week later, and captioned it, "Harry! You were JUST here but it feels like year ! Come back! We all had too much fun. More Leo please!" So, while that certainly seems like the actor was only around the shoot for a short time, it also looks like the cast certainly wants him back for more.
It's has been 11 years since fans last saw the character, since he didn't appear in last year's "Vote, Honey" short. Here's a refresher: Grace met Leo way back in Season 5 of the original run of the series. At this point in the series, Will and Grace had made the decision to have a baby together and really make their partnership permanent. Grace was on her way to her artificial insemination when she straight up ran into a light pole and hit her head. Dr. Leo M.D. literally rode up on a white horse and saved the day. The two end up dating, falling in love and eventually getting married, a few times. Throughout their relationship, things with Will got a little strained here and there, but in the end, it seemed like Leo and Will came to terms with each other's role in Grace's world.
Unfortunately, all was not well with this marriage. Shortly after they moved to Brooklyn together, Leo was called back for Doctors Without Borders (something he had done before) and the marriage became strained, as he was gone often. Things went from bad to worse when Leo returned from Cambodia and admitted to Grace that he cheated on her with another doctor while he was there. The marriage couldn't be saved, and Grace ended up moving back in with Will.
In the Season 8 and (until now) series finale, a couple of time jumps occurred that resulted in Grace and Leo reconnecting and getting married again. The two even ended up having a daughter named Lila and moving to Rome together to raise her for a couple of years. In fact, Will and Grace fell out of touch in the finale for the very reason that Grace accepted a proposal from Leo. Obviously, people were not ready to forgive his indiscretions just yet.
But you may be able to consider some of that water under the bridge. Grace will be reportedly be single and childless in the new season of Will & Grace. So, it will be interesting to see how the writers play the whole Leo angle in the revival, now that he has been relegated back to ex-husband status and they are sans the daughter who appeared in the original finale. Since he is only around for perhaps one episode in this incarnation of the show, Leo's appearance will likely be a little dose of nostalgia rather than anything earth-shattering. Of course, who knows? Harry Connick, Jr.'s return to Will & Grace could possibly stretch out into something even bigger. It wouldn't be the first time these two couldn't quit each other.