Which 'Gilmore Girls' Revival Episodes Is Jess In? Fans Have Seriously Missed Him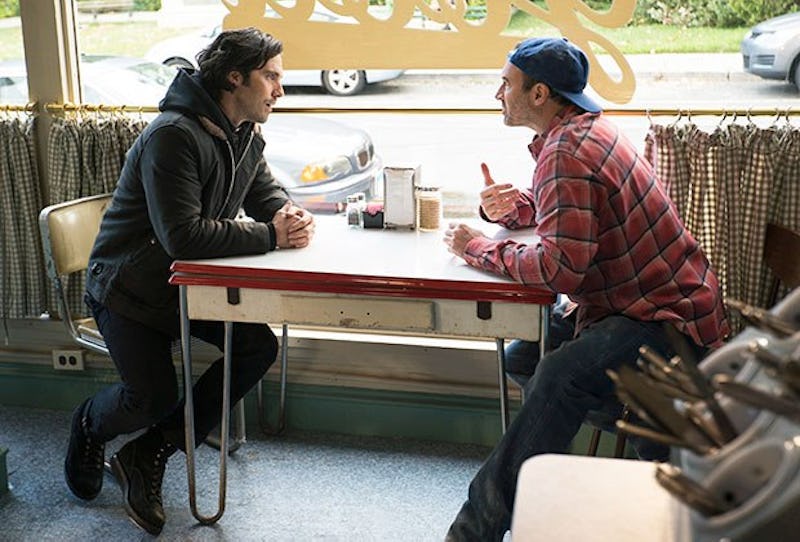 Saeed Adyani/Netflix
If we're going to talk about Netflix's Gilmore Girls revival, there's one thing we have to get out of the way first: If you're not Team Jess, you're wrong. I know, I know: Logan is both charming and good looking, and Dean... was there, too. And even though most of my friends are Team Logan, I will go down on the Jess ship like the Titanic if I have to, especially now that he's about to be back on my television again in his final adult form. Since the announcement became official that Milo Ventimiglia was returning for the revival, I've been so excited to see what his character has been up to since the original show ended. So what episodes of the Gilmore Girls revival are Jess in? If you love this little rebel as much as I do, you might've been concerned when you first started watching the revival.
See, earlier this year, Ventimiglia told TVLine that is in three of the four episodes, and his IMDB page lists him as appearing in "Spring," "Summer," and "Fall." However, Jess actually does not appear in "Spring." But if you're hoping Rory chooses Jess, it's pretty significant to note that stills from the revival confirmed he's definitely in the finale, so at the very least, this doesn't rule that possibility out entirely.
Even after watching "Winter" and "Spring," don't know much about what Jess is doing in 2016, other than what the trailers hint at. Thankfully, they suggest that he and Rory seem to be (at the very least) on super friendly terms, especially since she goes to him for advice when she's feeling lost about what her future should look like.
Ventimiglia himself hasn't revealed much about what we can expect from Jess, but he did impart a few clues to Entertainment Tonight back in February when he was filming his scenes. He said:
"He's Jess. He's a little salty and ornery. Kind of doing his own thing and has zero tolerance for anything or anyone. He's also there to kind of push the ball forward for some folks in Stars Hollow, which is something that Jess has always done, whether intentionally, maliciously, or positively. He's always sent people in a direction."
Let's be real, though: No matter what Jess is up to and whether or not he and Rory end up together America both needs and deserves to see as much of him as possible in the revival. Thanksgiving was great and all, but finally seeing (and drooling over) Jess on Gilmore Girls again will be the real highlight of my weekend.