Kim K Revealed Her Favorite Ultra Light Beam Shades & They Will Definitely Sell Out First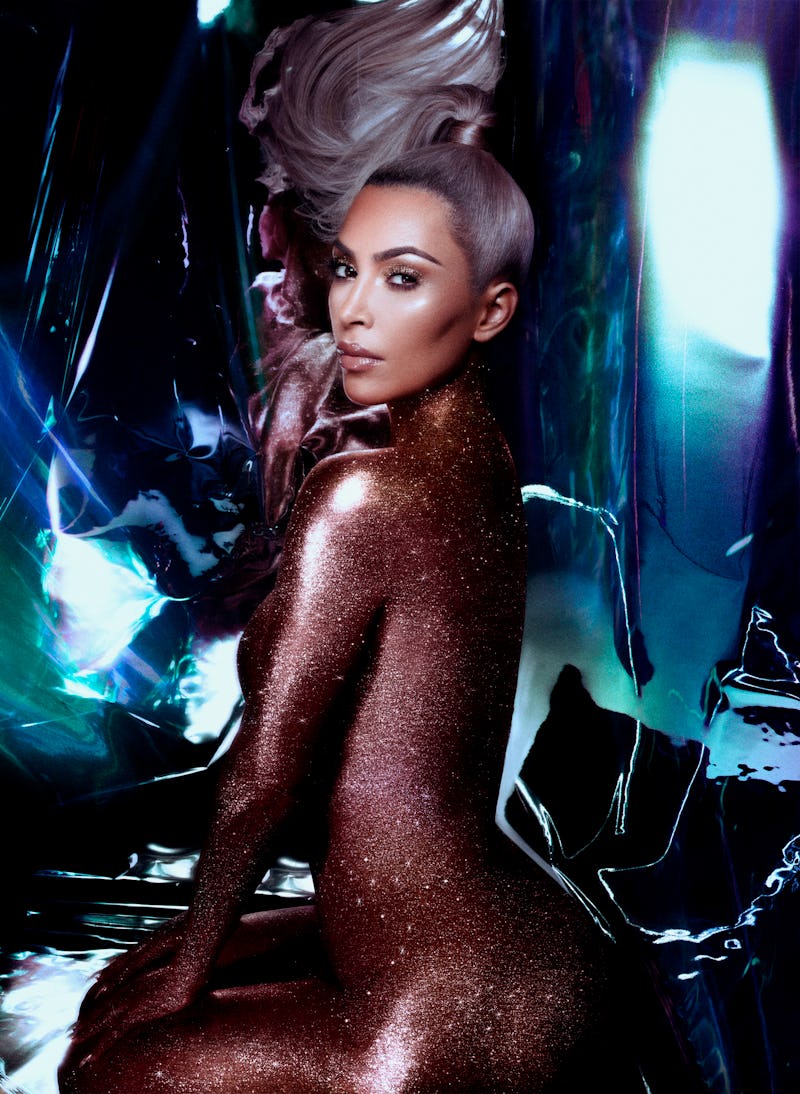 Courtesy KKW Beauty
If you haven't already heard the exciting news, KKW Beauty's Ultra Light Beam Collection is coming. The set of ten shimmers and glosses pack major shine and K-Day is right around the corner. How will you know which ones to buy? Well, Kim Kardashian's favorite Ultra Light Beam shades will give you a better plan.
Forget everything you thought you knew about KKW Beauty, because the brand is making their way from classic contour products to a whole lot of shine. On Dec. 1, ten soft, smooth-finished highlighters and ultra-shine glosses will hit the site. The products both come in the same corresponding shades — Iridescent, Rose Gold, Yellow Gold, Copper, and Bronze.
The neutral shade selection makes for a versatile collection that will work on a variety of different skin tones. They're so versatile that you might not even know which ones to get. Allow Kardashian to help you. She named her favorite shades in an interview with Bustle, and something tells me that they'll be your favorites, too.
"The iridescent is really pretty, especially with my lighter hair," she says. "But... I like the bronze and the gold the best. The rose is really pretty, too."
At first glance, it looks like Kardashian has used both to create the above look. So not only do you need both of these shades in your life, you can also combine them to make for custom colors. Plus, they can be worn in a ton of different ways.
"As far as color is concerned, I've always worn highlighters in the inner corners of my eyes, down my nose, on my cheeks," she adds. "I wear it as eyeshadow. Mario and I are obsessed with highlighter, so we made five really beautiful colors.
"I felt like I wanted something glitzy for the holidays and if I was going to venture off into something, I thought a glitzy lip and eye would be exactly what I would want."
She might talk about them being great for the holiday season, but these shades can definitely be worn all year 'round. There's no word on whether or not Kardashian will be expanding the shade selection, but the five staples are definitely a great start.
Unlike Kylie Cosmetics' Lip Kits, Kardashian's lip products will not come with a corresponding liner. They will however come with a corresponding highlight. According to the press release, you can snag two shimmery products in the same shades for $32 or buy the entire set for $160 on Dec. 1.
KKW Beauty launching its first lip and highlight products puts her into Kylie Cosmetics territory. Both the sisters have created the products now, but Kardashian vows not to be in direct competition with her sister's brand.
"[Kylie and I] made sure it was very different. We talk about all of our products and everything that we are doing and we definitely made sure we have completely different products and different formulas and different everything," Kardashian tells Bustle. "We're really good like that. We communicate really well just to make sure that we're not having the same exact thing."
There's no doubt that Kardashian's favorite hues — Gold and Bronze — will be the first to fly off the virtual shelves. Get your wallets ready and set those alarms, because this is sure to be one of the top beauty products of the season.