Here's When To Expect That Epic Misty & Colleen Team-Up In 'Luke Cage' Season 2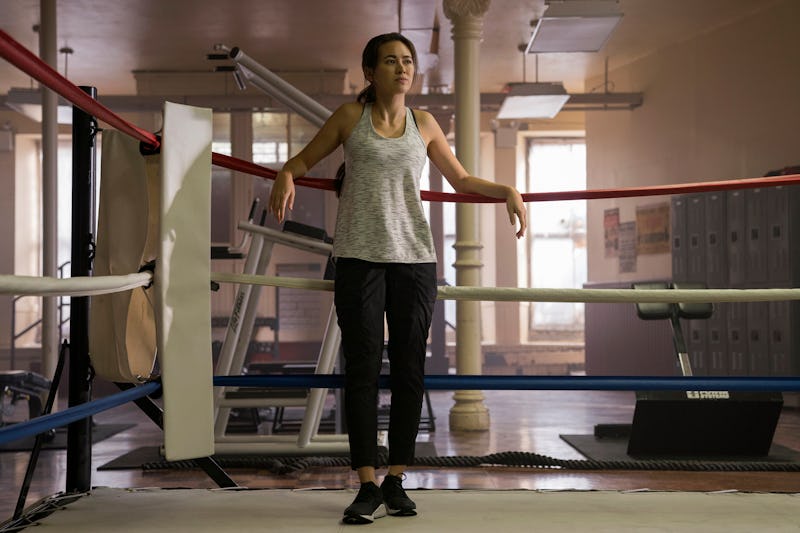 David Lee/Netflix
Luke Cage (Mike Colter)may be unbreakable and bulletproof, but he's also smart enough to surround himself with strong and formidable women. Claire Temple (Rosario Dawson) and Misty Knight (Simone Missick) are perfect examples of this, however, there's one more badass lady who will be making a special cameo appearance in Harlem for Luke Cage Season 2: Colleen Wing, played by Jessica Henwick, who made her Marvel Netflix debut in Iron Fist. But as for how many Luke Cage Season 2 episodes Colleen will be in, fans may find themselves a bit disappointed.
Unfortunately, no official number has been revealed by Netflix, but judging from Henwick's IMDB page, it appears as though this particular martial arts expert will only be sticking around for one episode, titled "I Get Physical," which is the fourth episode of this new season. Of course, IMDB isn't necessarily the end all-be all answer to questions like this, so it's always possible Colleen could pop up more than that. But it does seem unlikely that she'll be playing a huge role. At its core, this is Luke Cage's story, and since he'll already be sharing the screen with numerous other characters (some old and some new), there may not be a lot of time available for multiple Colleen cameos.
That doesn't mean that her time on the show won't be memorable though. In fact, it could prove to be one of the highlights of the season since it involves her teaming up with none other than Misty Knight in an ultimate barroom showdown.
In a clip that was released ahead of the second season, Colleen and Misty are sitting in a bar when a guy approaches with some not-so-kind words for the seasoned detective. "That's the second time someone has called me a b*tch today," Misty informs Colleen. Evidently, that was one too many times, because she immediately clocks the guy and a full-on bar fight ensues. As you can imagine, these women have some serious moves, so the guys in said bar don't really stand a fighting chance. It's the team-up you may not have realized you needed, but now it's hard to imagine the Marvel universe without it.
Apart from that particular scene it's unclear if there's a bigger part Colleen will play in the grand scheme of things. Finn Jones's Danny Rand also makes an appearance this season, so there may be a few interactions between the two of them as well. But for viewers, the blossoming friendship between Misty and Colleen will prove to be the most intriguing part. And it seems as though Colleen plays a significant role in helping Misty adjust to her disability.
If you recall, Misty lost her arm at the end of the first season of The Defenders, which will definitely have a big impact on her story arc throughout Season 2. According to a Netflix press release, as reported by TVLine, Misty finds herself feeling "powerless and alone" after the incident, but eventually "finds solace" in Colleen, who "inspires her to reclaim her power."
By the looks of this clip alone, it seems like Colleen in doing a bang up job of taking Misty under her wing. She certainly seems to be embracing this new side of herself and now obviously there needs to be a Misty-Colleen spinoff in the works ASAP. (In the comics, the characters team up to become the Daughters Of The Dragon, so there's certainly a precedent.)
The point is, even if Colleen shows up for just one episode of this new season, it's clear her presence on the show is going to be worth it. She's always been a force to be reckoned with, but now that she has Misty by her side, there's no telling what they can accomplish. Luke who?