Reformation Is Coming To Nordstrom, So More People Can Finally Shop The Brand IRL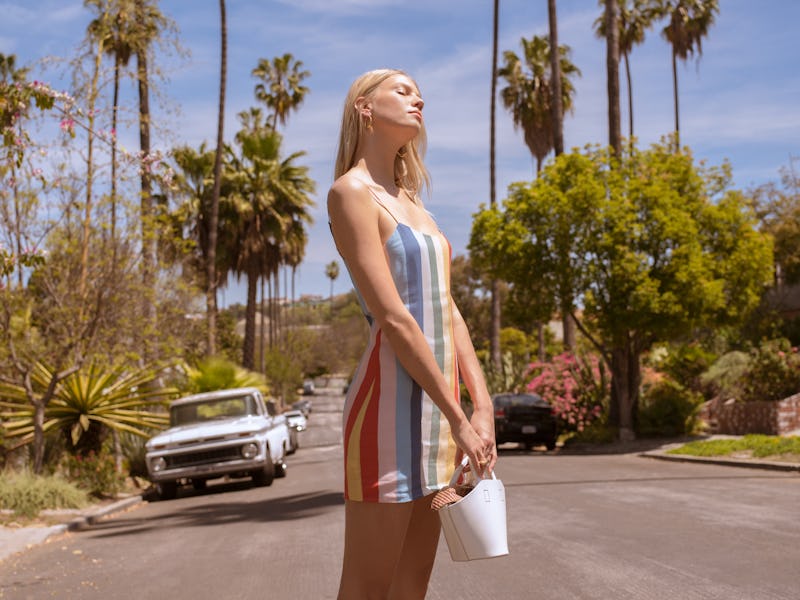 Courtesy Reformation
Sustainable fashion has come a long way in recent years, and it's about to get even bigger. Reformation is coming to 20 Nordstrom locations, which means even more opportunities to shop the brand. According to the press release, the idea is to spread sustainable fashion to more women across the United States, instead of just the coasts.
Reformation has promised since 2009 to commit to sustainable manufacturing, and, starting June 4, the brand is going nationwide. The deal with Nordstrom includes 20 new locations, brand new collections, and even select style available online. According to Business of Fashion, Reformation's deal with Nordstorm is about spread sustainable fashion to more women— not just boosting sales.
"Our goal is to bring sustainable fashion to everyone," Reformation chief executive Yael Aflalo told Business of Fashion. "It's popular on the coasts but there are a lot of American women that we don't know yet."
The 20 new Nordstrom locations are...
Nordstrom Barton Creek Square (Austin, Texas)
Nordstrom Bellevue Square (Bellevue, Washington)
Nordstrom Downtown Seattle (Seattle, Washington)
Nordstrom Fashion Island (Newport Beach, California)
Nordstrom Fashion Square (Scottsdale, Arizona)
Nordstrom Fashion Valley (San Diego, California)
Nordstrom Houston Galleria (Houston, Texas)
Nordstrom King of Prussia (King of Prussia, Pennsylvania)
Nordstrom Michigan Avenue (Chicago, Illinois)
Nordstrom NorthPark (Dallas, Texas)
Nordstrom Oakbrook (Oak Brook, Illinois)
Nordstrom Park Meadows (Lone Tree, Colorado)
Nordstrom San Francisco Centre (San Francisco, California)
Nordstrom Santa Monica Place (Santa Monica, California)
Nordstrom South Coast Plaza (Costa Mesa, California)
Nordstrom Topanga Plaza (Los Angeles, California)
Nordstrom University Town Center (San Diego, California)
Nordstrom Valley Fair (San Jose, California)
Nordstrom Walnut Creek (Walnut Creek, California)
Nordstrom Washington Square (Tigard, Oregon)
This isn't just a major moment for Reformation though. Bringing a sustainable brand into Nordstrom doors is pretty incredible as well. The retailer is less known for eco-friendly fashion and more known for the twice-a-year sale. Both of those things are great, but it will be nice to combine the two into one place.
"We're thrilled to be partnering with Reformation to offer our customers access to their highly regarded brand," Tricia Smith, EVP GMM of Women's Apparel at Nordstrom, says in the press release. "We admire Reformation's vision and standards for sustainability and know their values and collection of effortless pieces will resonate with our customers."
There's no word on whether this is just a really great partnership or the beginning of even more eco-friendly brands to come. Bustle reached out to Nordstrom to see where the sustainable fashion option fits into the brand right now and if they plan to expand their selections even more.
As far as shopping goes, you can walk into any of the above stores right now. The in-store selection includes everything form rainbow striped dresses and red, white, and blue tanks to solid colored dresses. The new styles aren't exclusive to Nordstrom, but you will have even more places to shop.
You're also able to snag 57 pieces on the Nordstrom website right now. These can be shopped no matter which state you live in. Of course, so can the Reformation website. Just like the in-store selection, you'll only be able to shop these styles online or in-store at Nordstrom.
"We have long admired Nordstrom for being at the forefront of retail innovation. We're proud to join their roster of stellar brands and offer sustainable fashion options to the Nordstrom customer," Aflalo says of the partnership in the press release.
This is not Reformation's first store, but it is the first time they're partnered with a major retailer like Nordstrom. Unlike the brand's recent pop-up shop in the Hamptons, this is bigger and more exciting than ever. Women from all over the country will be able to walk into a Reformation store and shop.
This is a major step in the name of sustainable fashion brands. Most options are only available direct to consumer, which means not a lot of options for trying-before-buying. It'll be interesting to see how Nordstrom grows the sustainable selection from here.