13 Olympic Couples At The Winter Games You Probably Didn't Know About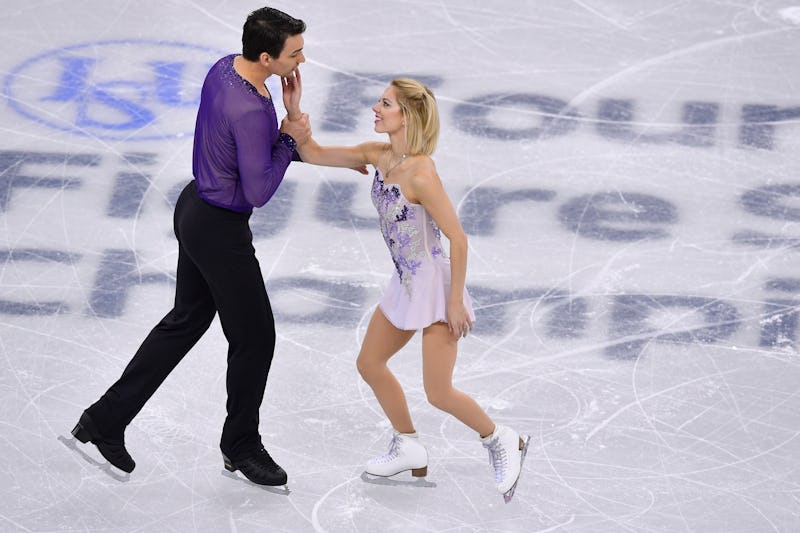 Koki Nagahama/Getty Images Sport/Getty Images
We hear a lot about the sexual free-for-all that goes down in the Olympic Village every Summer and Winter Games, and while there is a ton of hooking up between athletes in the Olympic Village, some of them are also happily partnered to each other. So which Olympians are dating each other at the 2018 PyeongChang Winter Games? There are nine real-life couples in the ice skating categories alone, to say nothing of less overtly romantic sports.
In fact, although neither of them is competing in the games this year, one of the most memorable Winter Olympics romances is between arch rivals Julie Chu, the one-time captain of the U.S. Women's Ice Hockey team, and Caroline Ouellette, former captain of the Canadian Women's Ice Hockey team. (They welcomed an extremely adorable baby last year.)
It's easy to see why Olympians would make compatible partners: they each understand the dedication and time commitment required to be a professional athlete, and they're likely a little more empathetic about grueling travel and training schedules. Plus, if you happen to be teammates or participate in the same sport, there's bound to be bonding over shared interests. Here are some of the couples keeping romance alive at the 2018 Winter Olympics.
1. Alexa Scimeca Knierim & Chris Knierim
The Knierims will be Team USA's only pairs figure skaters this year, and according to NBC, they are the first American married couple at the Olympics in 20 years. They met when 30-year-old Chris' mom asked 26-year-old Alexa if she would skate with him. She initially said no, but changed her mind after watching him skate at competitions. They were married in 2016 by their coach Dalilah Sappenfield.
2. Sarah Hendrickson & Torin Yater-Wallace
Sarah Hendrickson is a 23-year-old ski jumper for Team USA who competes in her second Olympics this year. She's dating Torin Yater-Wallace, a 22-year-old Team USA freestyle skier in the halfpipe event, reports US Weekly. Upon learning that they both had qualified for the Olympics this year, she posted a photo to her Instagram with the caption, "Dreamed of it, worked for it, fought for it. We are BOTH going to #pyeongchang2018 I am beyond inspired to be in your life to push each other and support each other. #Olympiandate"
3. Madison Chock & Evan Bates
Ice dancers Madison Chock, 25, and Evan Bates, 28, will be skating together for the first time this year as a real-life couple. They grew up on the same competitive skating circuit in Michigan and went on their first date on Madison's 16th birthday, according to NBC. Keep an eye out for these longtime love birds.
4-5. Madison Hubbell/Adria Diaz & Zachary Donohue/Olivia Smart
This is a pretty amazing story that almost requires a flow chart to keep straight. According to Time, Madison Hubbell and Zachary Donohue are competing together as ice dancing partners at the 2018 Winter Games. They used to date, but broke up because they each decided their on-ice partnership was more important to preserve, and they couldn't keep up both dating and skating together. Then Hubbell started dating Adria Diaz, a Spanish ice dancer who competed in Sochi in 2014. Later, Donohue started dating Olivia Smart, who just so happens to be Diaz's ice dancing partner. The best part? The foursome all live and train together in Montreal.
6. Jamie Anderson & Tyler Nicholson
PyeongChang is Jamie Anderson's second Olympics, where she'll compete as a slopestyle snowboarder for Team USA. She's also dating Tyler Nicholson, a first-time Olympian and snowboarder for Team Canada, according to NBC.
7. Penny Coomes & Nick Buckland
According to The Independent, Coomes and Buckland are yet another real-life and ice dancing couple who are competing in the Winter Games this year on Team Great Britain. They started skating together in 2005, but didn't begin dating until later.
8. Anna Cappellini & Ondrej Hotarek
Anna Cappellini and Ondrej Hotarek buck the trend of dating and skating together. Cappellini completes in ice dancing with a different partner for Team Italy, while Hotarek competes in pairs figure skating with another partner, also for Team Italy. The couple prefers not to work together, reports Time.
9. Evgenia Tarasova & Vladimir Morozov
Evgenia Tarasova, 23, and Vladimir Morozov, 25, are another on-ice/off-ice couple in pairs figure skating who are competing in their first Olympics this year for Team Russia, according to Time. They've been skating together since the junior division.
10. Devin Logan & Travis Jayner
Devin Logan is a halfpipe and slopestyle freestyle skier who will be competing for Team USA in her second Olympics this year. Although her bae isn't in the Olympics this year, Travis Jayner did compete for Team USA in the 2014 Sochi Winter Games as a short track speed skater, according to NBC.
11. Marie-Jade Lauriault & Romain Le Gac
Marie-Jade Lauriault and Romain Le Gac are ice dancers who began skating together in 2015 and a little over a year later, they got married, reports Time. They'll skate a program together for Team France in the 2018 Winter Olympics.
12. Miriam Ziegler & Severin Kiefer
Miriam Ziegler competed in the 2010 Winter Games in Vancouver as a singles figure skater, in the 2014 Games in Sochi as a pairs figure skater, and she's making it a three-peat in the 2018 Winter Games, competing again as a pairs figure skater with her real-life boyfriend Severin Kiefer, reports Time. The couple represents Team Austria.
13. Cheryl Maas & Stine Brun Kjeldaas
Cheryl Maas is a Dutch snowboarder (and avid motorcyclist!) making her third appearance at the Olympics this year. An openly queer athlete, Maas is married to Stine Brun Kjeldaas, a former Norwegian snowboarder and two-time Olympian who took home a silver medal in the halfpipe at the 1998 Nagano Winter Games, according to Outsports. She also made an appearance at the Salt Lake City Games in 2002. The couple has two children together.
Another couple to look out for? Brittany Bowe, long track speed skater and two-time Olympian as of this year, and her partner Manon Kamminga. While Kamminga has never qualified for an Olympic Games, she's also an inline skater and a long track speed skater for The Netherlands, according to NBC. Even though they're not technically an Olympic couple, Bowe is still bringing much-needed queer representation along with her to the Olympics.
There you have it — plenty of love to heat up the Winter Games this year.