All The Politicians Who Sent Prayers To Vegas Victims But Gladly Pocket NRA Money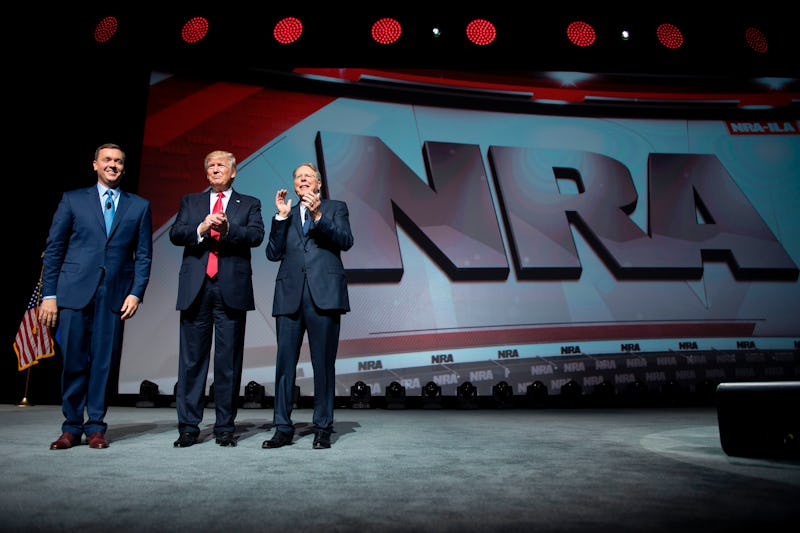 JIM WATSON/AFP/Getty Images
Following Sunday night's mass shooting in Las Vegas, politicians who support the National Rifle Association are now sending their "thoughts and prayers" to the victims. But gun control advocates think it's too little too late — and that actions speak much more loudly than words.
More than 500 people were injured and at least 58 killed in Sunday's attack during the Route 91 Harvest Festival, a country music festival outside the Mandalay Bay Casino. It's currently the deadliest mass shooting in modern U.S. history, and naturally, it's opened up the debate over gun control in America.
Among the politicians who've come forward to share "thoughts and prayers" is Rep. Mike Coffman, of Colorado's Sixth Congressional District. According to the Center for Responsive Politics, Coffman received $9,900 from the NRA's political action committees during the 2016 election cycle. When the congressman tweeted that his "thoughts and prayers go out to all of the victims and their families of this horrific massacre in Las Vegas," DJ and drummer for The Roots Questlove was quick to call him out.
"$9,900 from NRA," he wrote, along with Coffman's tweet. Questlove did the same thing for Kentucky Senator Rand Paul, who also received $9,900, Virginia Congresswoman Barbara Comstock, who pocketed $10,400, Missouri Senator Roy Blunt, who accepted $11,900, and a slew of other politicians whose campaigns were partially funded by the NRA, but who expressed remorse for the victims of the Las Vegas massacre.
A lot of people view their sympathy as hypocritical, since they've accepted support from a group that spends millions of dollars every year in order to keep gun restrictions to a minimum. The NRA also financially benefits from tragedies like Las Vegas, since the organization represents gun manufacturers whose sales increase after mass shootings because people fear gun control, Fast Company reported, and therefore stock up on firearms.
Below is a list of members of Congress who after accepting funds from the NRA, sent "thoughts and prayers" to Las Vegas victims in lieu of any concrete plan for reducing gun violence. All of the data comes from the Federal Election Commission and was organized by opensecrets.org and Splinter News.
Iowa Senator Chuck Grassley: $9,900
Texas Congressman Will Hurd: $9,900
New York Congressman John Katko: $9,900
Maine Congressman Bruce Poliquin: $9,900
Ohio Senator Rob Portman: $9,900
Florida Senator Marco Rubio: $9,900
New York Congressman Lee Zeldin: $9,900
North Dakota Senator John Hoeven: $8,450
Iowa Congressman Rod Blum: $7,450
Virginia Congressman Bob Goodlatte: $7,450
Wisconsin Senator Ron Johnson: $7,450
Alaska Congressman Don Young: $6,950
Arizona Congresswoman Martha McSally: $6,500
Arkansas Senator John Boozeman: $5,950
Texas Congressman John Culberson: $5,950
New York Congressman John Faso: $5,950
Wisconsin Congressman & Speaker Of The House Paul Ryan: $5,950
Pennsylvania Congressman Bill Shuster: $5,950
Pennsylvania Congressman Lloyd Smucker: $5,950
New York Congresswoman Claudia Tenney: $5,950
Oklahoma Congressman Tom Cole: $5,000
Oklahoma Senator James Lankford: $5,000
South Dakota Senator John Thune: $5,000
Nebraska Congressman Don Bacon: $4,950
Michigan Congressman Jack Bergman: $4,950
Idaho Senator Mike Crapo: $4,950
Wisconsin Congressman Mike Gallagher: $4,950
North Carolina Congressman Richard Hudson: $4,950
Louisiana Senator John Kennedy: $4,950
Florida Congressman Brian Mast: $4,950
Oklahoma Congressman Markwayne Mullin: $4,950
Alabama Senator Richard Shelby: $4,950
Texas Congressman Lamar Smith: $4,950
Iowa Congressman David Young: $4,950
California Congressman Ken Calvert: $4,500
Alaska Senator Lisa Murkowski: $4,500
Texas Congressman Pete Olson: $4,500
South Carolina Senator Tim Scott: $4,500
Pennsylvania Congressman Charlie Dent: $4,000
Georgia Congressman Barry Loudermilk: $4,000
North Carolina Congressman Patrick McHenry: $4,000
Michigan Congressman Tim Walberg: $4,000
Alabama Congressman Robert Aderholt: $3,500
Georgia Senator Johnny Isakson: $3,500
Ohio Congressman Dave Joyce: $3,500
Minnesota Congressman Jason Lewis: $3,500
Texas Congressman Michael McCaul: $3,500
Virginia Congressman Scott Taylor: $3,500
Colorado Congressman Scott Tipton: $3,500
California Congressman David Valadao: $3,500
North Carolina Congressman Ted Budd: $3,000
Ohio Congressman Steve Chabot: $3,000
California Congressman Paul Cook: $3,000
Texas Congressman Henry Cuellar: $3,000
South Carolina Congressman Jeff Duncan: $3,000
Georgia Congressman Drew Ferguson: $3,000
Georgia Congressman Tom Graves: $3,000
California Congressman Duncan Hunter: $3,000
West Virginia Congressman Evan Jenkins: $3,000
Ohio Congressman Bill Johnson: $3,000
California Congressman Steve Knight: $3,000
Illinois Congressman Darin LaHood: $3,000
Ohio Congressman Bob Latta: $3,000
Utah Congresswoman Mia Love: $3,000
Washington Congressman Dan Newhouse: $3,000
Minnesota Congressman Erik Paulsen: $3,000
New York Congressman Tom Reed: $3,000
Utah Congressman Chris Stewart: $3,000
Ohio Congressman Pat Tiberi: $3,000
Indiana Congresswoman Jackie Walorski: $3,000
Ohio Congressman Brad Wenstrup: $3,000
Tennessee Congresswoman Diane Black: $2,500
Tennessee Congresswoman Marsha Blackburn: $2,500
Texas Congressman John Carter: $2,500
If anything, these responses to the Las Vegas shooting necessitate a call to action more than ever. If you are passionate about supporting gun control, there are lots of ways you can make your voice heard.