Style Meets Substance In This Beaut Pride Swag That Donates To LGBTQ+ Groups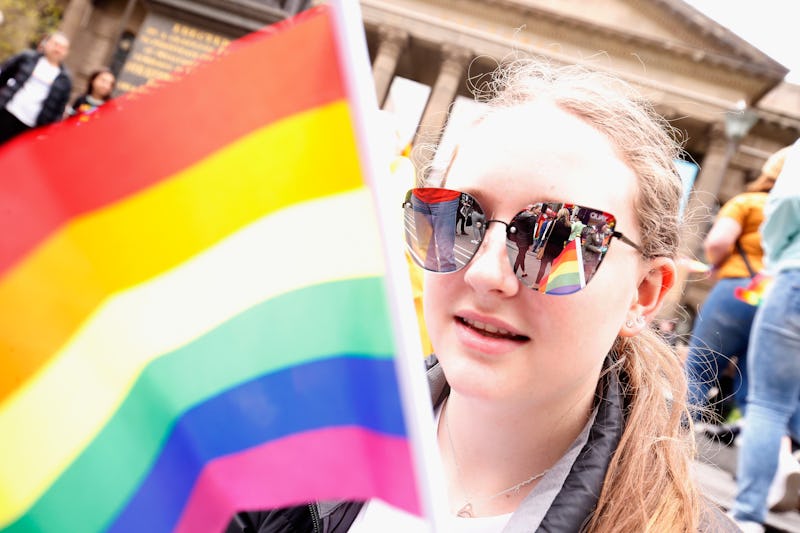 Darrian Traynor/Getty Images News/Getty Images
Get your rainbow-coloured flags ready because Pride Month is upon us. Each year, the LGBTQ+ community celebrates its past, present, and future throughout June — and it is glorious. With celebratory marches taking place across the world, it's the perfect time to show your support with some branded merchandise. But how do you choose what to go for? Well, answering this question might make your decision a little easier; which Pride t-shirts donate money to LGBTQ+ organisations? Well, quite a few. This year, the likes of H&M, Primark, and Disney have all announced that they are producing rainbow designs that will benefit charities based in various countries around the globe.
Primark's is (obviously) the most affordable with prices starting from just £2 for the fun and definitely eye-catching range. Meanwhile, H&M's collection is equally purse-friendly with less rainbow and more graphic prints shouting the need for equality and love all round.
Disney, on the other hand, has pulled out all the stops for its Rainbow Mickey line. Taking everyone's favourite cartoon mouse, the childhood brand has designed a range of clothes and accessories that combine Mickey Mouse with an explosion of colour and, yes, love.
More collections are expected to be announced soon as well. Last year, limited edition pieces by brands including Nike, Urban Outfitters, and Levi's were released to honour a community that unfortunately continues to suffer in many countries. The brands listed below are doing their best to help LGBTQ+ charities this Pride Month, and that deserves celebrating.