Aspect Of Russia-Trump Report Reportedly Confirmed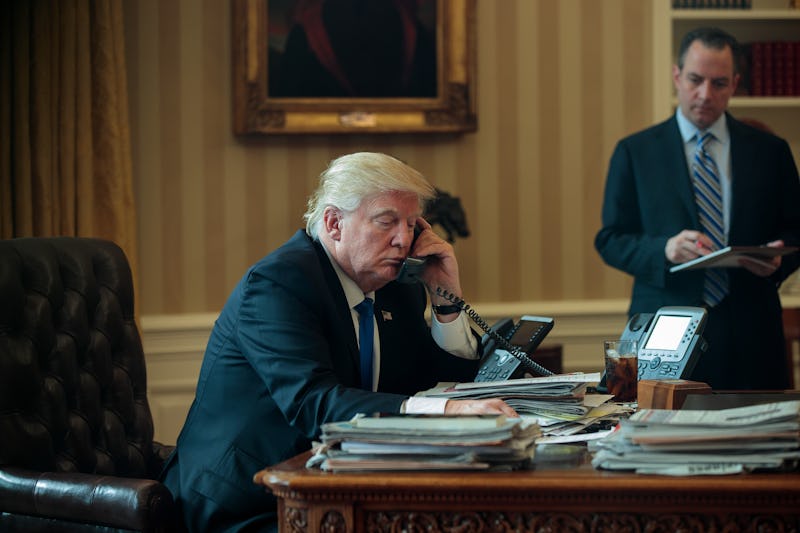 Drew Angerer/Getty Images News/Getty Images
In a major development Friday, CNN reported U.S. intelligence investigators had managed to corroborate parts of a report alleging Russia possessed compromising information about President Donald Trump. Intelligence agencies alerted Trump and then-President Obama to the report in early January after officials grew concerned about the potentially explosive nature of the salacious personal information the report alleges Russia has on Trump. So, what did investigators corroborate in the Russia-Trump report?
According to CNN, U.S. investigators claim to have corroborated some of the communications detailed in a 35-page report, which alleges – among other things – that Trump surrogates exchanged information with the Russian government during the 2016 presidential campaign. Previously investigators had said they could not verify or corroborate any aspect of the report.
Although investigators haven't said exactly which communications detailed in the report they've been able to corroborate so far, they noted that intelligence intercepts of foreign nationals had confirmed some of the conversations detained in the report did in fact take place at the time and locations given. Due to the classified nature of both the investigation and U.S. intelligence programs, investigators would not disclose the specific contents of any corroborated communications.
Investigators claimed the corroboration has reportedly given U.S. intelligence agencies "greater confidence" in the credibility of the report, which had been compiled by a former British intelligence agent. However, investigators stressed they were still actively investigating the full contents of the report and had not corroborated its more lewd allegations. According to CNN, investigators also said they had not "reached any judgement" on allegations pertaining to compromising information the Russian government might have on President Trump which could potentially be used as blackmail. Among the many allegations detailed in the report is the claim that Russia's hacking of DNC emails was done "with the full knowledge and support of Trump."
When asked to comment on the development by CNN, White House Press Secretary Sean Spicer reportedly dismissed the information as fake news. "We continue to be disgusted by CNN's fake news reporting," CNN reported Spicer said. "This is more fake news. It is about time CNN focused on the success the president has had bringing back jobs, protecting the nation, and strengthening relationships with Japan and other nations."
Spicer's comment is not altogether surprising given how insistent the president has been that all potentially critical news coverage of him is "fake news." In a press conference last month, then-President-elect Trump dismissed the report as "all fake news." "It's phony stuff," Trump told reporters. "It didn't happen."