These Women Flipped 2 Open Senate Seats To Blue & Their Wins Were Crucial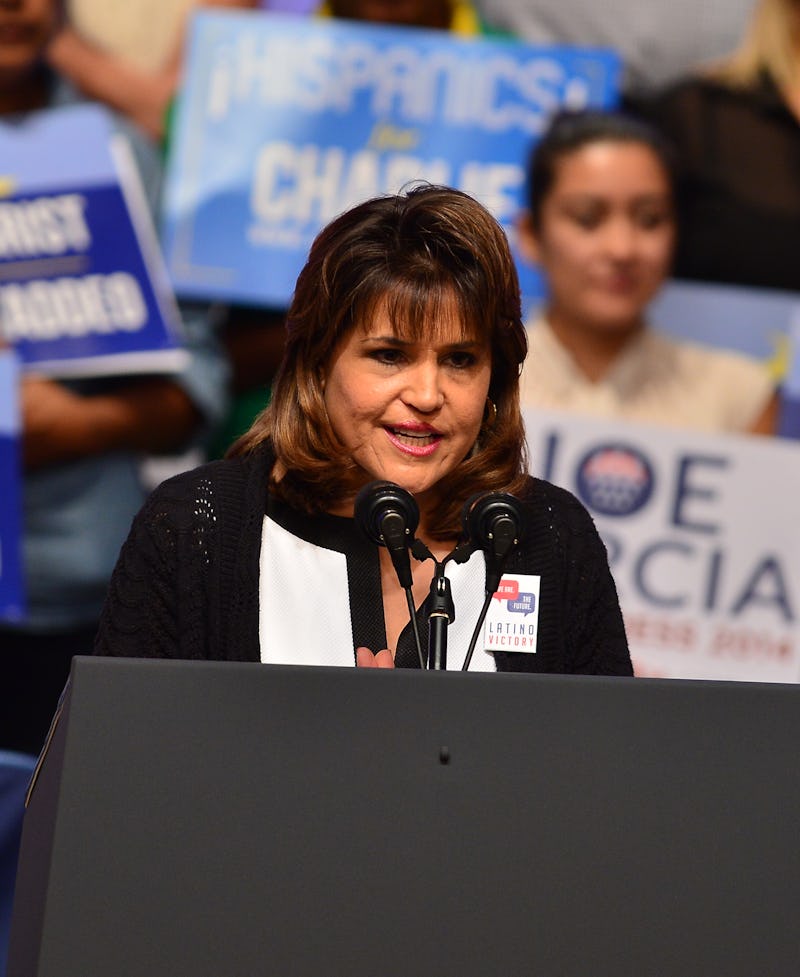 Johnny Louis/WireImage/Getty Images
Good news for the Democratic party and its supporters. Two female Democrats flipped seats from Republicans in the highly contested and heated states of Florida and New Hampshire. Democrats Annette Taddeo and Kari Lerner won state seats from Republican male contestants on Tuesday.
Both women's victories come at a critical time for the Democratic party, which is seeking to build support across the United States after its stunning defeat in the 2016 presidential election. The party's rigor seems to be paying off, as the Democratic party has already won six GOP-held seats since November while Republicans have won zero.
"Flipping a seat" may sound comical and even bizarre on the surface — imagine someone causing a ruckus with chairs — but in the American political context, flipping a seat can be and is often critical for a party's grip on a state and its people. Especially a party that has lost in a previous election, like the Democrats.
In general, "flipping" refers to how a state voted differently compared to the previous election. For example, if a state seat was won by a Republican member in 2016 and then won by a Democratic member the next year, it "flipped." Think of the color red — associated with the Republican party — going Democratic blue or the Republican elephant symbol flipping to the other side and turning to the Democratic donkey. It switches, changes — whatever synonym suits your political vernacular. Officially, however, politicians will say the seat or state has "flipped."
With both Republican state seats flipped, Taddeo and Lerner could improve their states on various social and economic levels. In the south, Taddeo clipped Republican Jose Felix Diaz's chance for victory and became the very first Latina Democratic state senator in Florida. Taddeo's victory, in particular, is worth learning more about.
Two particular details from the Floridian Democrat's triumph are worth mentioning here. Not only did the Colombia-born politician score against Diaz, who was a member on Trump's Apprentice, but she's filling in the seat of former Sen. Frank Artiles, whose reportedly sexist and racist tirade against two black colleagues made news rounds in April. Artiles was initially adamant about his screed but later on apologized, according to Miami Herald.
Taddeo released an official statement expressing optimism about her future in politics and what she planned to do for Floridians. "The voters wanted a champion in Tallahassee who will fight for higher paying jobs, affordable healthcare and fully funded public schools and I am honored and humbled that they have placed their faith and trust in me," she said. "I pledge to work every day for the families of my community and not the special interests."
In New Hampshire, Lerner's victory, too, was described as an impressive undertaking, as the Democratic politician beat out Republican rival Rep James Headd. Lerner's victory is critical because in the state, according to New Hampshire's WMUR9, the Republican party has a "2-1 advantage in registrations." Notwithstanding GOP's stronghold, Lerner defeated Headd in a narrow but ultimately solid victory.
Raymond Buckley, who is the chairman of New Hampshire's Democratic party, described Lerner's victory as part of a bigger and perhaps growing trend in the country. "There's something happening in this state and all across this country when the deepest red districts in New Hampshire are consistently turning royal blue," Buckley said. Lerner's victory was the party's "hardest-won victory so far" and "proof that voters are showing up when it matters to reject the dangerous and divisive agenda of Donald Trump and [Republican Gov] Chris Sununu," the chairman said.
With Taddeo and Lerner's victory in the basket, the Democratic party now boasts eight total wins against the GOP. And it seems that, in spite of mounting challenges for the party, that number might just grow.