Pippa & Kate Middleton's Parents Are Very Successful Business Owners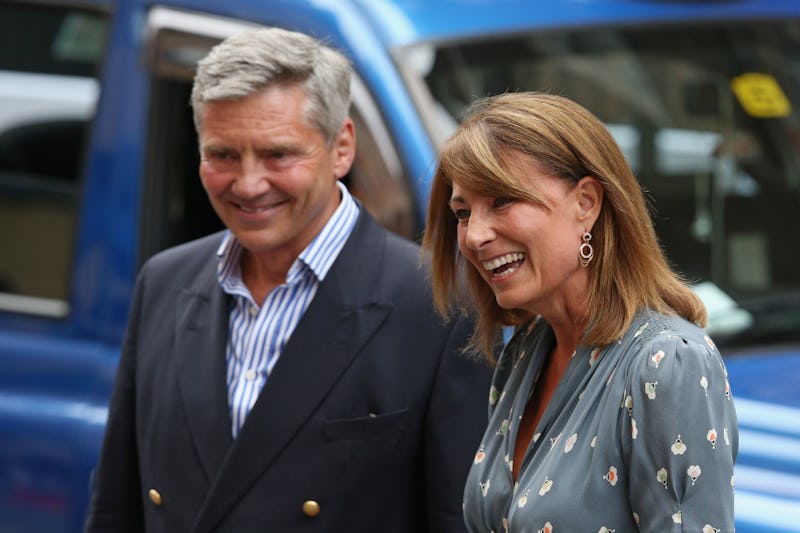 Oli Scarff/Getty Images Entertainment/Getty Images
Here comes the bride! The U.K. will once again capture the attention of the world this weekend as Pippa Middleton, the sister of the Duchess of Cambridge, will marry her financier fiancé James Matthews. Before the bride-to-be walks down the aisle, surely her mum and dad are bursting with just as much excitement as the rest of us. But just who are Pippa and Kate Middleton's parents? Turns out Carole and Michael Middleton are kind of a big deal. The Sun reports the couple are self-made millionaires thanks to their successful family business, Party Pieces.
According to the company's website, in 1987 Carole noticed a need for party items in more locations in order to better serve parents' planning their children's birthdays. She began working with suppliers to create "party kits" for children and adult parties complete with matching cups, plates, napkins, and decorations.
Carole wrote on the website that her children played an instrumental role in the success of her company. Kate, Pippa, and their younger brother, James, modeled for the Party Pieces catalogue. "James established our personalised [sic] cakes, Catherine started the 1st birthday side of the business, and Pippa developed the Party Pieces blog," according to the website.
Prior to the success of Party Pieces, Carole and Michael met while working for British Airways and have been married for 37 years, according to The Telegraph. Carole worked as a flight attendant while Michael served as a flight dispatcher. The Telegraph reports, Michael came from a well-to-do family and received and inheritance from his paternal grandmother. The BBC reports his grandmother, Olive Lupton, was a descendant of the Leeds family, "who had made their fortune as wool merchants in the 18th century."
Of course, the Middleton's lives have changed dramatically since Kate joined the royal family. But a resident of Bucklebury, where the Middletons live, told People magazine in 2016, Carole hasn't forgotten where she came from. "She still goes to the pub with her girlfriends for a glass of wine and a gossip and is always really fun and approachable, relaxed and happy. She's just as much fun as anybody else." As for Michael, in addition to walking Pippa down the aisle, he's also reportedly helping out with wedding planning. The Daily Mail spotted him holding "an itinerary and a copy of the seating plan" last week while visiting St. Mark's Church where the wedding with take place.
Although Bucklebury won't be the site of the wedding, The Sun reports, Pippa's parents will host the wedding reception at their West Berkshire estate. As the family preps for Pippa's big day, surely the event space will be decorated immaculately in time for the turn up.