Lady Gaga Gave Her Parents A Super Bowl Shoutout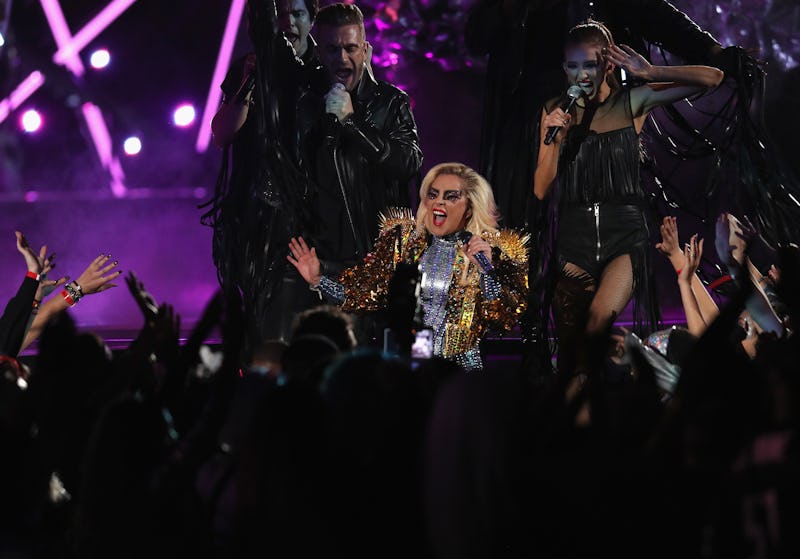 Patrick Smith/Getty Images Sport/Getty Images
Lady Gaga is known for being unconventional, sure, but I think it's pretty clear that all of that is a stage act. During her uplifting Super Bowl halftime show, Lady Gaga said hello to her mom and dad, and it was adorably sweet. Her parents, Cynthia and Joe Germanotta, are equally proud of her. In an interview with E! Gaga's father said, "From the time she was little until now, she's been an inspiration to all of us. Not only to our family, but to the world, and to finally realize this... to be on the biggest stage on the world is every artist's dream."
The E! interview also revealed that Lady Gaga's mother was a head cheerleader in college — so this is, in a way, a return to her roots. According to a piece that she wrote for The Daily Beast, Cynthia Germanotta is also the president of the Born This Way foundation, which empowers youth, advocates for mental health, and seeks to create a kinder world.
The Germanottas live in New York and opened an Italian restaurant called Joanne Trattoria on the Upper West Side. Joe and his daughter released an Italian cookbook together that was published in November 2016.
So, honestly, it's not surprising that Gaga paused to say "hi" to her parents at the Super Bowl. They're clearly a huge part of her life. It was a sweet, human moment that made her optimistic performance even more special.