What You Need To Know About Melania Trump's State Of The Union Guests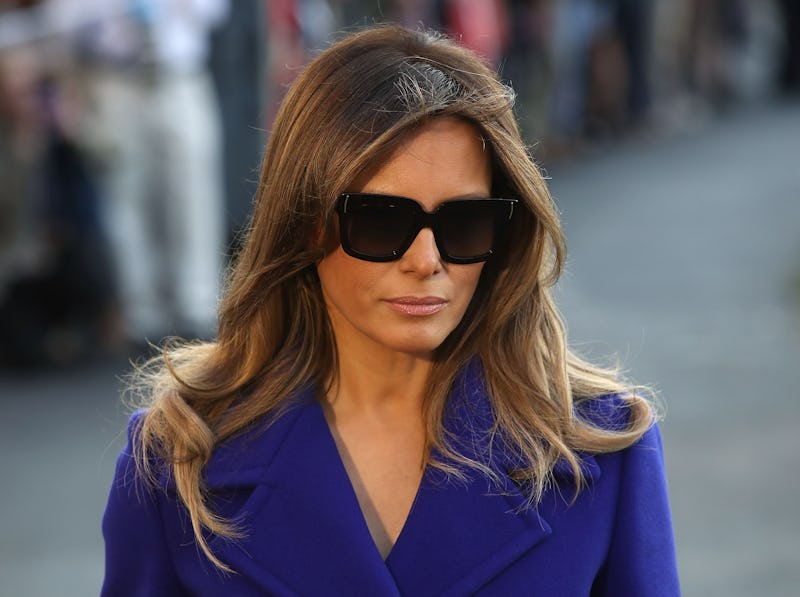 Mark Wilson/Getty Images News/Getty Images
President Trump is delivering his second State of the Union address on Tuesday evening, and per tradition, he and Melania Trump have invited a host of guests to join them at the event. They'll be seated with the First Lady during the speech itself, and Melania Trump's SOTU guests include a variety of Americans whose presence will, in various ways, underscore different elements of the president's agenda.
Trump has pledged to crack down on MS-13, a Los Angeles-based gang composed largely of immigrants from South and Central America. At the SOTU, Melania will be accompanied by Elizabeth Alvarado, Robert Mickens, Evelyn Rodriguez, and Freddy Cuevas, the family members of two girls who were allegedly murdered by members of MS-13. Trump used a similar strategy at the Republican National Convention in 2016, which featured speeches by family members of Americans who were killed by undocumented immigrants.
Relatedly, Melania will be joined by C.J. Martinez, a law enforcement official who's worked with Immigration and Customs Enforcement (ICE) to arrest MS-13 members.
Melania has also invited Jon Bridgers, David Dahlberg and Ashlee Leppert, three Americans who helped provide relief for those affected by natural disasters. Leppert is an aviation technician in the U.S. Coast Guard who helped rescue those affected by the recent spate of hurricanes; Dahlberg is fire prevention technician who, according to the White House, saved 62 people during the southern California wildfires; and Bridgers is the founder of Cajun Navy 2016, a non-profit that provides flood relief in the South.
Several of Melania's other guests touch on other aspects of Trump's policy plank. In an attempt to highlight the horrors of opioid addiction, Melania has invited Ryan Holets, a cop who adopted a baby from parents who were addiction to opioids. Melania will also be joined by Corey Adams, Steve Staub and Sandy Keplinger, three professionals who who, according to the White House, will save money on their taxes thanks to the GOP's tax reform bill.
Melania's guests will be rounded out by Preston Sharp, a 12-year-old who places flags on the graves of U.S. veterans, and retired Cpl. Matthew Bradford, a U.S. Marine who lost both of his legs and his vision after stepping on an improvised explosive device in Iraq.
Technically, these are the guests of both Trump and Melania. But they'll be sitting with Melania during the speech, given that Trump — obviously — will be busy delivering the State of the Union.
The Democratic lawmakers in attendance will be bringing a very different slate of guests. Sen. Elizabeth Warren will bring Jean Bradley Derenoncourt, the first Haitian-American man to win election to public office in Massachusetts, while Rep. Robin Kelly will bring State Senator Kwame Raoul, a first-generation Haitian-American. This invitations appear to be a response to reports that Trump referred to Haiti and other nations as "sh*thole countries" during a closed-door immigration meeting.
In addition, no fewer than 24 Democratic lawmakers have invited undocumented immigrants who were shielded from deportation under President Obama's DACA program, according to CNN. This isn't entirely surprising, given that Democrats have made immigration reform one of their top priorities and are currently attempting to broker a deal to save DACA with their Republican colleagues.
One such Republican, however, has called for Capitol Police to arrest any undocumented immigrants who attend the SOTU, arguing that "of all the places where the Rule of Law needs to be enforced, it should be in the hallowed halls of Congress."
"Any illegal aliens attempting to go through security, under any pretext of invitation or otherwise, should be arrested and deported," Rep. Paul Gosar, also a licensed dentist, wrote on Twitter.
All in all, there's nothing too surprising or unprecedented about the first couple's guest list. Trump and Melania have invited guests to SOTU who, in their eyes, demonstrate the necessity of enacting the president's policies. Although Trump has often broken with presidential tradition, this is a rare instance of him following firmly in the footsteps of his predecessors.