Even North Korea's Allies Are Wary Of Its Missile Tests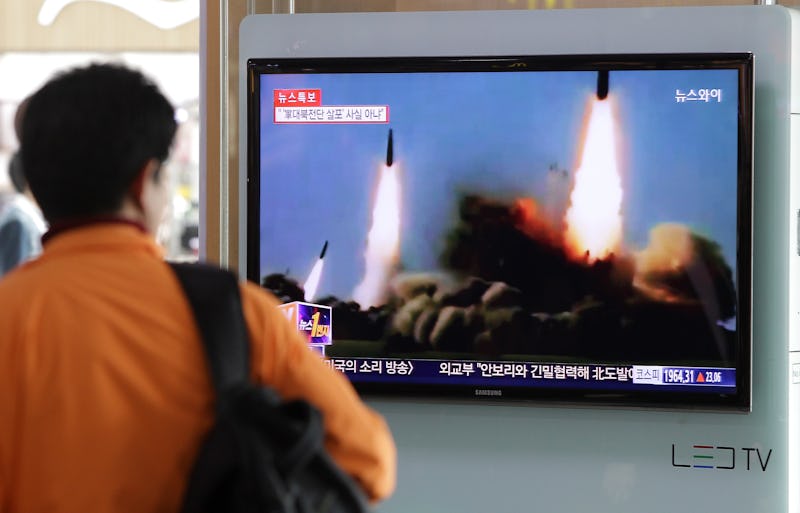 Chung Sung-Jun/Getty Images News/Getty Images
Tensions are rising on the Korean peninsula after the North set off a series of missile tests, getting closer to being able to target the United States and other far-off nations. That in turn led American military officials to send a U.S. naval strike group to the region from Hawaii. Finally, North Korea had to respond to what they saw as a threat with a strongly worded statement. They promised to hold the USA "fully accountable for the catastrophic consequences" from "its high-handed and outrageous acts." So, well, should you worry? Who are North Korea's allies? In short, no one that will likely go to war for them.
Historically North Korea has had strong ties to Communist nations, particularly China and the USSR (now Russia). But now even those ties are not particularly strong — and both countries have expressed frustration with the erratic actions of North Korea's current leader. Russia said last year that North Korea should reconsider its threats to the United States because it could lead to war with the country. China has been distant since Kim Jong-un took power.
In February, China even suspended its coal imports, leading North Korean media to say the country was "dancing to the tune of the U.S."
That does not mean either country would like to see war, however. Both have issued statements trying to keep the United States from attacking North Korea. Russia said that this is one of the issues they are most concerned about regarding U.S. foreign relations as Secretary of State Rex Tillerson arrives in Moscow, Reuters reported.
"We are really worried about what Washington has in mind for North Korea after it hinted at the possibility of a unilateral military scenario," the Russian Foreign Ministry said in a statement. "It's important to understand how that would tally with collective obligations on de-nuclearizing the Korean peninsula, something that is underpinned in U.N. Security Council resolutions."
China has not used quite so strong language, but it has made it clear that it would prefer a diplomatic solution as opposed to a military response, CNN reported. Trump took to Twitter to cajole Beijing for help on the matter. "I explained to the President of China that a trade deal with the U.S. will be far better for them if they solve the North Korean problem!" Trump tweeted. He went on to write that "if China decides to help, that would be great. If not, we will solve the problem without them!"
Whether China will respond positively to such rhetoric remains to be seen. But what is clear is that even North Korea's allies would rather that the country not force the situation to a breaking point, because that would mean the U.S. could invade, bringing mayhem to their doorsteps.