'Bachelor' Star Raven Is So Close With Her Family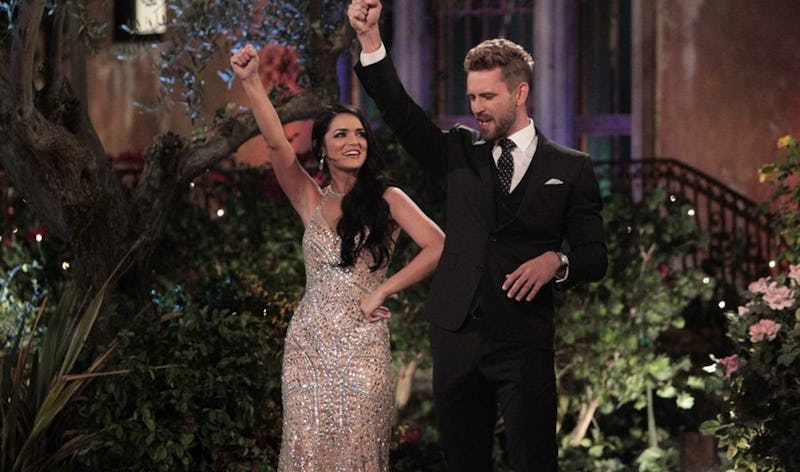 Abc
I know it is tough to concentrate with this season of The Bachelor being so intense, but let's all try to focus on the reality of the situation at hand here. Nick will eventually be choosing a lady to spend the rest of his days with and this means that two families will be lovingly melting into one very shortly. We know Nick's family seemed to fall in love with Raven from their first meeting but soon it will be time for Nick to meet Raven's parents (if she makes it that far). So, who are Bachelor star Raven's parents?
It is clear from a little social media sleuthing that Raven is extremely close to her family. The Gates clan has also been through a lot together. Her father Wes was diagnosed with cancer a couple of years ago but in February of 2016 he posted a message to his Facebook page that stated he was holding a clean bill of health. Raven herself shared the post to her page.
She and her family clearly have a strong faith base and their religion is important to them. Raven has shared before how important of a role model her father has been to her and how they share a lot of the same traits. In the caption for the below Instagram post, she wrote, "Happy Father's Day to my dad who has always put me & my brother before himself. My dad and I share the same intellect, personality, and humor. & I'm proud of that! He's been a dad to many of my friends & a great role model of Christ. I love my dad!"
Wes currently works for Hytol Conveyor in Arkansas. According to the company's website, they specialize in "The design and manufacturing of advanced conveyor systems, controls and solutions for customers with processing, manufacturing, warehousing and distribution needs." His Facebook tells us that he also received his degree in Management Information Systems from Arkansas State University.
Raven's mother Tracy is currently listed as an elementary school teacher and principal for Hoxie, Arkansas public schools on her own Facebook page. Just looking at her interactions with her husband on social media will make you swoon. These are some seriously adorable relationship goals that Nick will have to live up to of Raven ends up being his bride. They're clearly very in love.
Both of Raven's parents are clearly extremely supportive of their daughter and constantly share things related to her store Grey Suede. It is clear that they are proud parents, and they have every reason to be with a daughter like Raven. Let's just hope they like Nick as much as his family liked Raven.