Take That Is A '90s Pop Band You Need To Know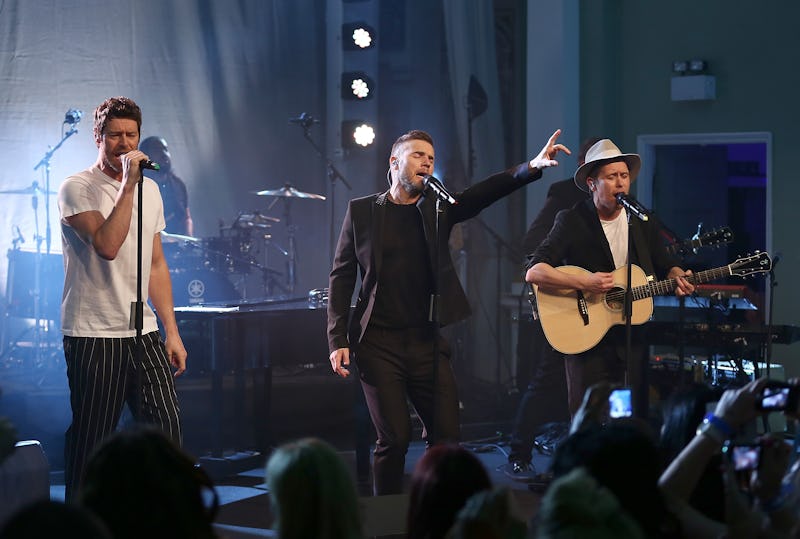 Tim P. Whitby/Getty Images Entertainment/Getty Images
Ariana Granda's One Love Manchester concert kicked things off with Marcus Mumford before turning the stage over to the city's homegrown '90s pop group Take That. If you reside in the U.S., you may be asking yourself, who's Take That? Well, they are a pretty big deal across the pond, and they had their moment stateside as well.
Take That was formed in 1989, and since then, the group has wracked up multiple Brit Award and MTV Europe wins for their energetic pop anthems. Over the years, the band has lost and gained several members, most notably Robbie Williams who left in 1995. He briefly returned to the group in 2010, before departing again in 2014, but fans of the band were treated to a wonderful surprise at Sunday's benefit concert.
Williams bounded on the stage after the band played their first song solo, and he joined in as the crowd cheered. Take That's passion for Manchester is apparent. During a concert on Friday, Williams allegedly became so emotional while singing his song "Angels" in tribute to those who lost their lives in the Manchester attack, he asked the fans to sing to him. Additionally, he changed the words to his hit "Strong," to include the refrain, "Manchester we're strong, we're strong, we're strong." Take That joined in with Williams to sing the new version at the benefit concert.
Over the years, the band have had 28 singles in the Top 40 on the U.K. charts. Their fame extends far beyond the United Kingdom though. Since they hit the music scene in the '90s, they have made a splash internationally with 56 number-one singles. Additionally, their music has landed in several movie blockbusters, with "Love Love" playing over the end credits of X-Men: First Class and "Get Ready for It" was the anthem for Kingsman: The Secret Service.
Whether you have missed out on this incredible band, or you're a devoted fan, their love for Manchester is inspiring. "Our thoughts are with everyone who have been affected by this, but right now we want everyone to stand and sing loud and proud," the band said before launching into "Rule the World" at the concert.
Their presence definitely seemed to energize the crowd and kick off the evening with some much appreciated hometown pride.