The London Mosque Attack Claimed At Least One Life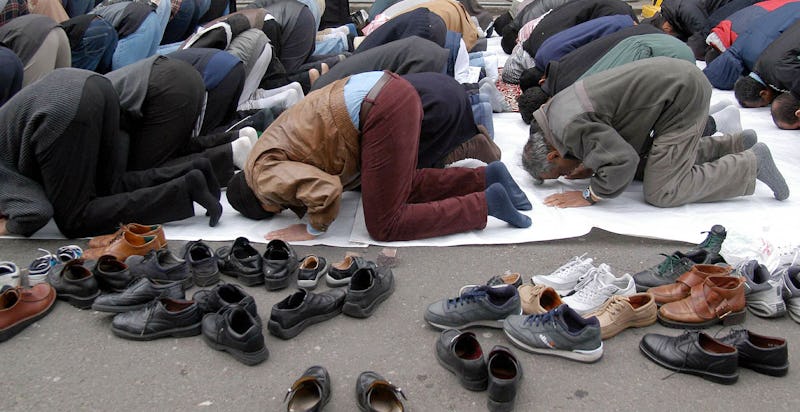 Hugo Philpott/Getty Images News/Getty Images
Early Monday morning around midnight, a van plowed into pedestrians near London's Finsbury Park Mosque. Though the London Metropolitan Police have not yet used the word "terrorism" to describe the incident, it is no less tragic or newsworthy. According to authorities, at least one person is dead and at least eight are injured.
London Mayor Sadiq Khan, unlike other London authorities, has referred to the incident as a "horrific terrorist attack." Following the attack, he posted a heartfelt statement to Facebook.
My thoughts and prayers are with everyone affected. I am grateful to our emergency services, who responded quickly and have been working on the scene throughout the night.
...We don't yet know the full details, but this was clearly a deliberate attack on innocent Londoners, many of whom were finishing prayers during the holy month of Ramadan.
While this appears to be an attack on a particular community, like the terrible attacks in Manchester, Westminster and London Bridge it is also an assault on all our shared values of tolerance, freedom and respect.
The Muslim Council of Britain has blamed Islamophobia for the attack and has confirmed that some victims were worshippers who were leaving the Finsbury Park Mosque after late-night prayer. Those who were struck were reportedly outside of the Muslim Welfare House located on Seven Sisters Road.
Harun Khan, the Muslim Council of Britain's secretary general, released a statement on the attack, sending his prayers to victims.
During the night, ordinary British citizens were set upon while they were going about their lives, completing their night worship. My prayers are with the victims and their families. It appears from eye witness accounts that the perpetrator was motivated by Islamophobia.
And there could have potentially been more victims if Imam Mohammed Mahmoud hadn't allegedly contained the driver of the van, according to eyewitness reports. The Muslim Welfare House thanked him, saying that his "bravery and courage helped calm the immediate situation after the incident and prevented further injury and loss of life."
In response to the attack that Khan has decried as terrorism, British Prime Minister Theresa May will hold an emergency meeting on Monday morning while an investigation into the attack is still underway. "All my thoughts are with the victims, their families and the emergency services on the scene," she said.
The names of the victims have not yet been released, but expect more information in the upcoming days.