Meet The Models Changing The Face — And Body — Of 'Project Runway'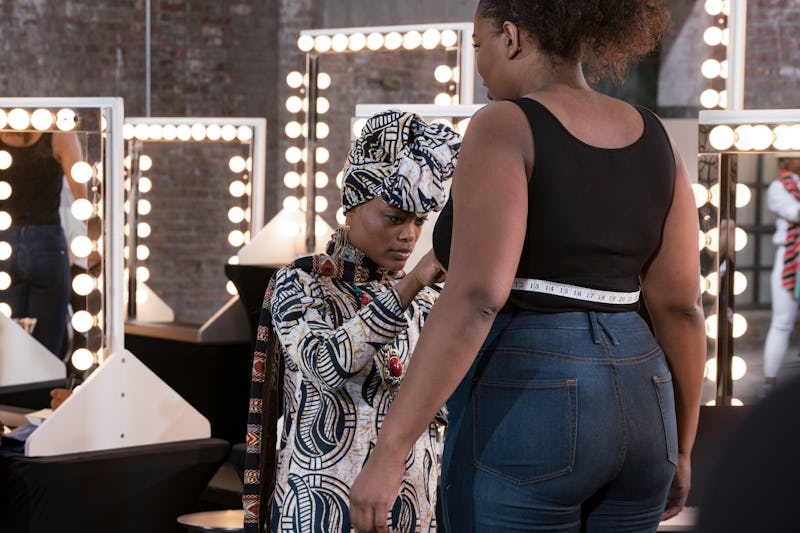 Barbara Nitke/Lifetime
Even as a long-term fan, it is hard for me to believe that an iconic series like Project Runway is in its 16th season and is just now embracing the fact that women come in more than one size. Nonetheless, this year, the show is featuring models whose dress sizes range from 0 to 22, and it is about time. So who are the models on Project Runway Season 16? This size-diverse group of women are actually getting to share their opinions about the clothes they are being asked to wear down the runway.
In 2016, everyone's favorite style mentor, Tim Gunn, wrote an editorial for The Washington Post that expressed his frustration with the show's outdated idea that the only clientele for these designers will be "seven foot tall glamazons". Well, no longer will there be a token "real women challenge" on Project Runway, where contestants too often lament the fact that they have to design for women who aren't a standard high-fashion sample size. In his editorial, Gunn admitted he hated those particular challenges because they perpetuated the ridiculous idea that designers' should be challenged by the idea of designing for the everyday woman. Finally, the models walking down the Project Runway catwalk all season will reflect real women.
The addition of a more size-diverse group of models is not just refreshing, it is also helping to usher in a slightly altered format to the show as well. The premiere showcased a new segment referred to as "Model Mirror," where the models get to weigh in on the clothes they are tasked with wearing for each challenge. Each model will rotate through the designers, so each designer will have the opportunity to design for a variety of body types throughout the season.
Of course, the majority of the designers should be thrilled to work with all sizes, but there's a chance that there will be some pushback and complaints. However, the women they're working with, whatever their size, are all professionals. Liris Cross, for example, is an extremely successful model with IPM Model Management, who walked in the finale fashion show of Season 15 winner Ashley Nell Tipton. Jazzmine Carthon is another working model from NYC, also signed with IPM Model Management. Monique Robinson is signed with Wilhelmina International and has shared personal, body-positive content on her Instagram.
But as Tim Gunn pointed out in his editorial, these contestants' future success may rely heavily on their ability to design for all women. Hopefully, the designers embrace this fashion evolution completely... since it reflects the real world more accurately than Project Runway ever has before.