The 'Dangerous Woman Diaries' Shows Off Ariana Grande's Sweet Bond With Her Dancers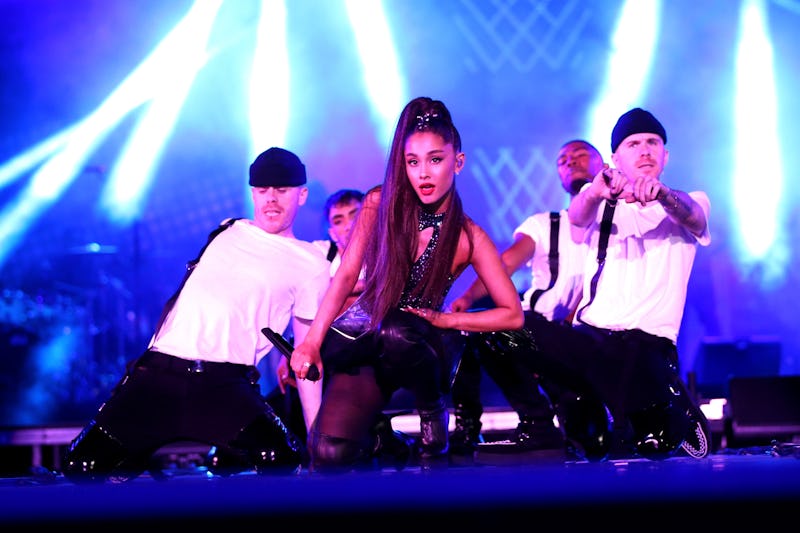 Rich Polk/Getty Images Entertainment/Getty Images
On Thursday, Nov. 29, Ariana Grande released her highly-anticipated docuseries, Dangerous Woman Diaries, giving fans a behind-the-scenes look at her latest album Sweetener while chronicling some of her many experiences on tour. There are many tidbits to take away from her new project, but one of the most interesting revelations the documentary provides is showing who the twins in Grande's Dangerous Woman Diaries really are.
True Arianators will, of course, immediately recognize the duo as Grande's frequent collaborators Scott and Brian Nicholson. They have notably served as the entertainer's backup dancers since at least 2012. And, as the docuseries makes clear, the 33-year-old Ohio natives appear to be an integral part of Grande's life, both on and off stage, working as creative directors and choreographers on the six-leg Dangerous Woman Tour — all while maintaining a close friendship with the former Nickelodeon star.
In Episode 2 of the docuseries, currently available on YouTube Premium, Grande explained her relationship with the twins, saying: "They're two of the most talented people on the face of the planet. As a human, as an artist, I'm incomplete without Brian and Scott."
While the pair have been part of Grande's entourage for some time, she often simply and lovingly refers to them as "the twins." Throughout the film series, Grande can often be seen joking and playing around with them, ultimately proving their tight-knit connection. After watching just one episode, there's no doubt that both Brian and Scott have played a significant role in helping Grande through some of of her toughest moments on this tour and beyond.
On May 22, 2017, the Dangerous Woman Tour was notably marred by a tragedy that would change Grande's life forever when her show at Manchester Arena in England was hit with an explosion that caused the death of 22 concert-goers and injured more than 800. In the summer of 2018, Grande revealed to Vogue U.K. that she'd been diagnosed with Post-Traumatic Stress Disorder following the horrific event.
The "God Is A Woman" singer, who is currently preparing to release her new project Thank U, Next in the upcoming weeks, also suffered another major heartbreak with the tragic passing of her ex-boyfriend Mac Miller this past September. Shortly after, Grande and fiancé Pete Davidson (who also makes a cameo in the film) would ultimately decide call of their engagement. While Grande quickly poured the energy from those life-altering moments into her music, having the support of close friends, like the twins, certainly is a major help.
In addition to commanding stages with Grande, it seems that the Nicholson brothers have quite an extensive background in the field of entertainment. A Grande fan wiki notes that together, the guys have danced for superstars such as: Janet Jackson, Beyoncé, Mariah Carey, Nicki Minaj, Kelly Rowland, and Daddy Yankee. They have also appeared in commercials for Playstation, ESPN, AT&T, and Samsung. As dancers, the twins are no stranger to touring, having hit the road with shows and companies such as Sean Kingston's "Tomorrow" World Tour, Victoria's Secret Fashion Show, and the Monsters of Hip-Hop in 2010. The brothers were also jointly nominated in the MTV VMA's best choreography category for Grande's "Side to Side" video in 2017.
Both Brian and Scott have played large parts in Grande's career over the past 5-plus years. Brian recently posted a video of the 25-year-old entertainer's Ellen DeGeneres Show performance of "Thank U, Next," crediting himself, Grande, and his brother Scott with the choreography and direction of the stage show. In his caption, Brian referred to Grande as "a f*ckin creative beast."
Grande's four-part Dangerous Woman Diaries offers a lot of great details about the singer/actor and her large entourage of family, friends and collaborators. However, her enduring friendship with "the twins" is something that definitely shines bright through and through.