Here Are 5 Shady People Gabriel Might Be Calling On 'HTGAWM'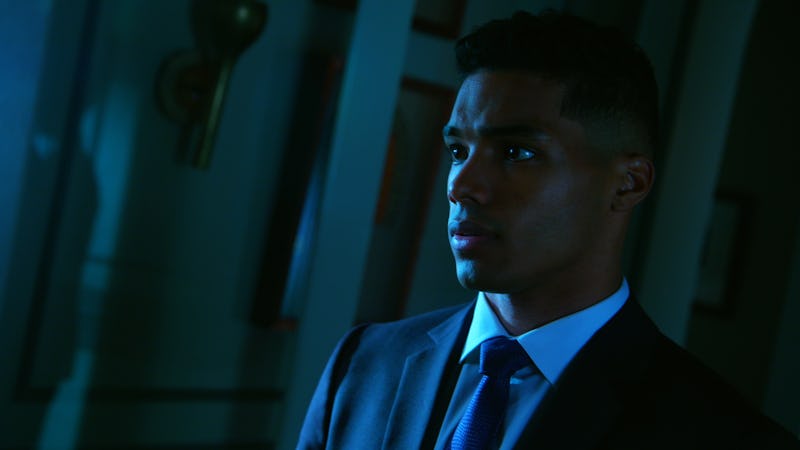 ABC
How to Get Away With Murder is back with more uncovered secrets, lies, and general chaos from Annalise's murder crew and associates. In the winter premiere, there were a ton of flashbacks alongside current happenings that left fans with even more questions than answers like who did Gabriel Maddox call after discovering the truth about his dad. There's are a few suspects but anything is possible in this constant web of mayhem.
The mid-season premiere picked up at the previous cliffhanger with sneaky Gabriel insisting that he only stole Annalise's keys and broke into her apartment to check on her and get answers about his father, Sam Keating. Yeah, that sounds exactly like something a normal person would do, right?
Annalise offers him a drink and spills the beans about how his dad was basically one of the sorriest people on the planet. She insists that Gabriel was better off without Sam in his life, which leaves Gabriel crying and heartbroken on his apartment floor. Awww…maybe Gabriel isn't the dangerous weirdo that we assumed him to be, right? Wrong.
Just when we started to feel sorry for Gabriel, he left a suspicious voicemail to an unknown person. "Hey. I screwed up," said Gabriel. "They found out who I am. Can you call me back?" Oh Gabriel, you just had to be a little rat. He claims he just wants to know the truth about his dad, but that's an obvious lie.
Someone is in cahoots with Gabriel to stir up some trouble and it might be any one of these people: