Who's Behind Bey's Stunning Grammys Performance?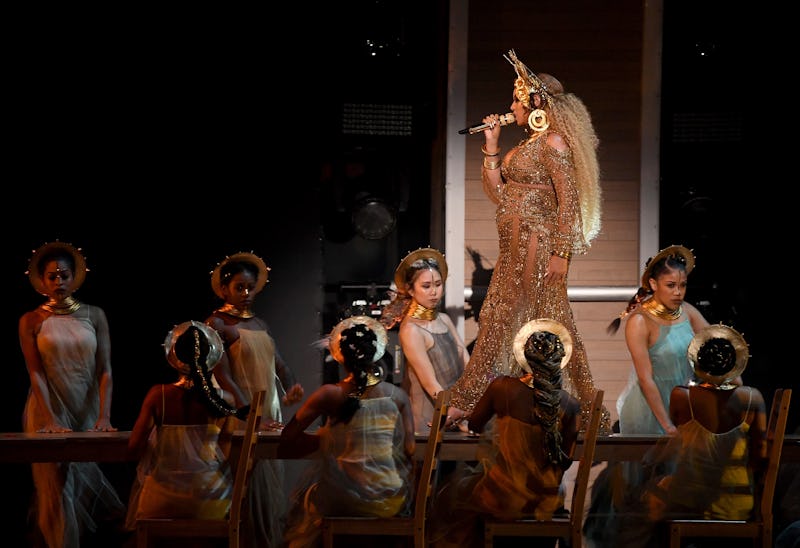 Kevin Winter/Getty Images Entertainment/Getty Images
After much speculation about whether Beyoncé would actually perform at the Grammys, fans were treated to a musical masterpiece. Honestly, that phrase doesn't even feel fitting for Queen Bey — she took things to the next level and beyond. But just who directed Beyoncé's 2017 Grammys performance? Soon after she took the stage, Twitter was eager to get an answer.
Some began speculating on Twitter that Tree of Life director Terrence Malick was behind Bey's performance, since it had vibes similar to his film. The same thing happened after Lemonade was released. However, as the mind behind that Grammys brilliance has yet to be confirmed, this seems to just be a comparison or observation by fans — it doesn't mean Malick actually directed it. Plus, you shouldn't believe everything you read on Twitter. I mean, there was even a tweet joking that little Blue Ivy was the creative director. (And as awesome as that toddler is, you know that's not true.)
Whoever the genius behind Beyoncé's performance is, they really did pull together an impressive show. Combining video with what took place on stage, it was like a mind-warp for the viewer. A Los Angeles Times article explored how exactly Bey pulled off that performance and referenced a "stage manager," but no name was given.
Although the director currently remains a mystery, it's only a matter of time before their identity is revealed. And when that does happen, they deserve all of the applause.