Nick Has To Make An Important Choice On 'Bachelor'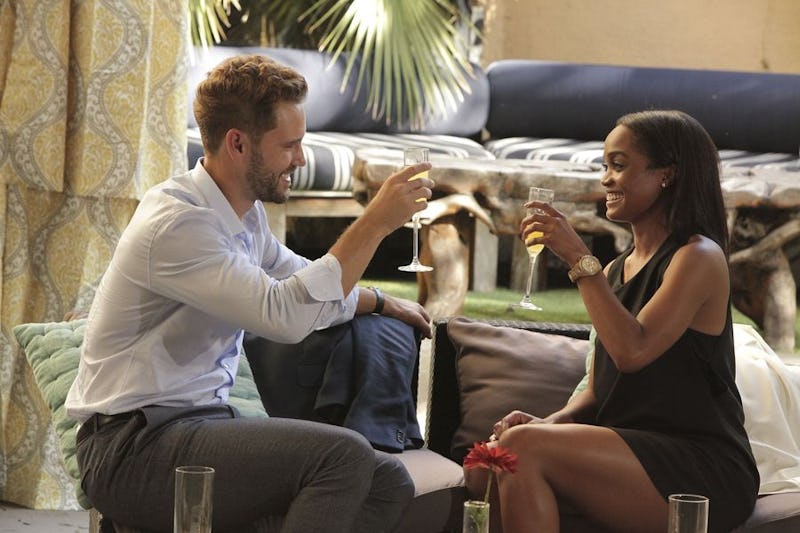 Bill Matlock/ABC
It seems like The Bachelor just premiered, but already, we're at hometown dates — and now, it's time for Nick Viall to send someone home before it's time for Fantasy Suites. On Monday night's episode, Nick met a lot of parents, went on dates with Vanessa, Rachel, Corinne, and Raven, and, even though these are obviously pretty awesome women, he has to say goodbye to at least one of them. Who does Nick eliminate from The Bachelor after hometowns? It's hard to say for sure, but I definitely have a couple of guesses... even though this season has been full of surprises so far.
Nick's date with Raven was sweet and easy, and I can't see him letting her go just yet because of their chemistry. And, although his date with Vanessa led to some hard questioning from her family (and her father in particular), it's always seemed like he has a special connection with her, especially after their first one-on-one date. After seeing all of the dates happen, I'd bet that he has to make the difficult choice between sending Corinne or Rachel home, and the producers are trying to kill us by making us wait another week to find out for sure.
As far as Corinne goes? The physical stuff is definitely there, but the way they interacted on their hometown date led me to believe that could be all it is. I'm not convinced that he returns her feelings — at least, not in a "let's get married" kind of way. I mean, Nick seemed to have fun on their shopping date, but it seemed way more like he sees her as a friend than anything else. That's important in any relationship, but having fun together can't be the only reason to spend your life with someone.
And, as for Rachel, my guess is solely based on the fact that we now know she's the next Bachelorette. Nick has clearly really been into Rachel since the very first cocktail party, and despite the fact that his date with her included facing a lot of difficult stuff to talk about regarding the fact that they're different races, he's been unswayed about his feelings for her. But she has to go home sometime if she's our next leading lady, and this could be it.
I can't wait 'til next Monday to find out for sure — and to see what happens if Vanessa really does approach him about her doubts. Nick has some amazing women to choose from, so I hope he chooses right. After seeing him heartbroken so many times on this show, I can't deal with it happening again.