Donald Glover Ties 'Spider-Man' To Miles Morales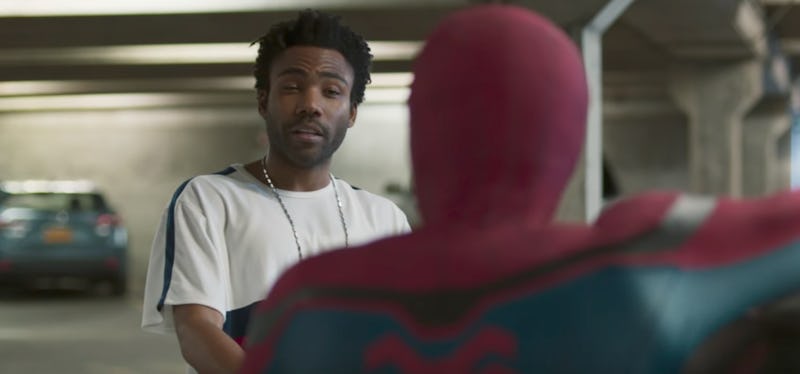 Sony Pictures Releasing
Ever since Donald Glover was cast in Spider-Man: Homecoming, his involvement in the film has been shrouded in secrecy. As the release date approached, the actor's role was finally revealed, and who Donald Glover plays in Spider-Man: Homecoming could hint as to the Spider-Man legacy the Marvel Cinematic Universe has planned. Glover plays Aaron Davis in Homecoming, and though he only appears in a few scenes, he certainly leaves an impression.
Spoilers ahead. Aaron Davis is just a small time criminal who crosses paths with Spidey. But, fans of the comics will recognize the character as hugely important, specifically when it comes to Miles Morales. In the comics, Aaron is the uncle of Miles Morales, the current Spider-Man. A career criminal and prolific thief, Aaron goes by the name the Prowler and is actually the reason Miles became Spider-Man. After stealing something from Osborn Industries, he accidentally brought a super spider back to his house, where it bit his nephew and gave him powers. He later blackmails Miles into using his powers for him, and the two don't have the best relationship.
In Homecoming, Aaron doesn't really seem like much of a criminal. Yes, he has a record, but he's nowhere near super-villain status and, after being caught trying to buy illegal alien weapons, he later reveals to Spider-Man that he wants to spy on someone, not kill or hurt anyone. In his last encounter with Spidey, Aaron helps the hero track down the bad guys and also lets slip one particularly revealing piece of information: he has a nephew.
When Marvel Studios first got the rights to Spider-Man, fans campaigned for Miles, the first black and Latino web-slinger, to be the star of the MCU's Spider-Man reboot. And many wanted Glover to star. As soon as Miles Morales made his debut, fans started an Internet campaign to get Glover the role, and the actor even voiced Miles in two Ultimate Spider-Man episodes in 2015. Of course, that campaign was a no-go when Peter Parker was announced as the new MCU Spider-Man. But now, with Glover playing Aaron Davis, it opens up the possibility of introducing Miles Morales to the big screen.
Before we get ahead of ourselves, when Aaron mentioned his nephew, it sounded like he was pretty young, so any appearance by Miles Morales in the MCU is probably a long way off. Furthermore, given Aaron's small part in the film, it's doubtful this connection will be explored in further Peter Parker films. However, it does mean that, when the time comes for Peter to pass the torch, Marvel has a new Spider-Man waiting in the wings within the MCU. The only question is, what are the odds that will actually happen?
"All of those little things are just Easter eggs for fans until they're something more than that," said Marvel Studios president Kevin Feige in an interview with ScreenCrush. "But anything that's happened in the books is potential material for us." Feige's comments don't exactly build a lot of confidence. Sure, he's keeping the door open for a possible Miles Morales storyline, but his vague answer sounds more like a covering of bases than a tease of what's to come.
Having Glover play Aaron Davis in Spider-Man: Homecoming opens up the possibility of Miles Morales in the MCU, but it doesn't do any more than that. If Glover returns for a possible Spider-Man sequel, then we might have something to really talk about.