A Look At Emma Watson's Dating History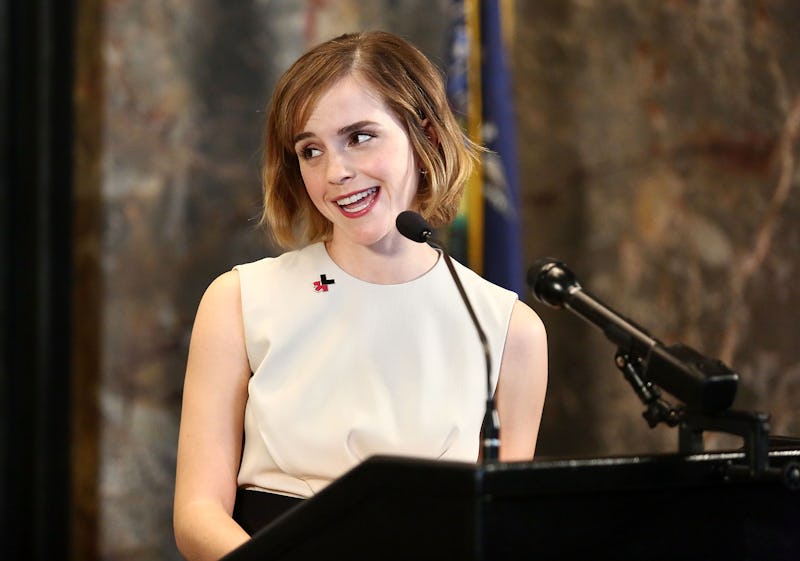 Astrid Stawiarz/Getty Images Entertainment/Getty Images
We might as well declare 2017 the year of Emma Watson. She's starring in two much hyped, big budget films (Disney's Beauty and the Beast live-action remake and The Circle, alongside Tom Hanks). As we see her in countless magazines and doing rounds on all of the popular talk shows, many of us fans can't help but wonder about Watson's romantic life. Why? Because we live in a world where tons of celebs share every detail about themselves on social media and we're practically conditioned to be curious about movie stars' personal lives.
An interview Watson recently did with Vanity Fair notes that she does have a boyfriend, but that she prefers to keep details of that part of her life private. "I want to be consistent: I can't talk about my boyfriend in an interview and then expect people not to take paparazzi pictures of me walking around outside my home," she said. "You can't have it both ways."
Throughout the past decade, Watson has been linked to various men, including Harry Styles and even Prince Harry. Watson herself joked about the topic during an interview with Glamour. "Anyone I get photographed with is automatically my boyfriend," she said. "So it just makes it look as if I've had, like, 6,000 boyfriends!"
OK, obviously Watson hasn't had 6,000 boyfriends, so I've sorted through the stories to try to identify who exactly Watson has dated over the years.
Tom Ducker
Watson's first public relationship was with rugby player Tom Ducker. The two dated for a year or so back in 2006/2007. Watson, who was already famous for playing Hermione in the Harry Potter movies, reportedly ended the relationship with Ducker to concentrate on work and her studies. A representative for Watson confirmed the split toThe Sun at the time saying, "they just drifted apart as teenagers do."
Jay Barrymore
According to the Daily Mail, Watson reportedly dated Jay Barrymore from 2008 to 2009. Barrymore, a British financier, is seven years older than Watson, but it wasn't the age difference that led to the demise of this reported relationship. Apparently, it was more of a distance issue, as Watson was studying at Brown University in the U.S. at the time. A source claimed, "the transatlantic gap proved too much for their relationship to survive."
George Craig
Teen.com reports that Watson and singer/model George Craig met on a Burberry shoot in 2010, where a source claims the two "instantly hit it off." Either this was a short-lived summer fling or tabloid rumors that never actually materialized into anything as Watson never confirmed that she and Craig were an item.
Will Adamowicz
Watson met Will Adamowicz while studying at Oxford in 2011, and according to People, the couple's relationship was confirmed as over in January 2014. Although Waton's rep confirmed the relationship and eventual breakup, the exact cause of their separation wasn't named.
Matthew Janney
Watson began dating Matthew Janney — who at the time played for Oxford University's rugby team — after splitting from Adamowicz. At the time a source close to Watson told The Mirror, "It's early but they're very much in to each other." The couple ended the relationship after about a year of dating, and Watson herself referred to breaking up as as "horrendous" in an interview with Vogue UK.
William Knight
Rumors broke that Watson was reportedly dating tech and business entrepreneur William Knight in February 2016. Though Watson's reps declined to comment on a relationship with Knight to People — and, as shown above, Watson would not speak further on her current relationship with Vanity Fair — the VF story points to the boyfriend mentioned as being rumored to be William "Mack" Knight.
As Watson continues her whirlwind publicity tour for Beauty and the Beast then switches into gear to promote The Circle, here's hoping wee see her and her current boyfriend on the red carpet together... That is, if Watson feels comfortable and decides to open up about the romance. If not, we'll all have to continue watching and wondering from a far.