Liv Hewson Can Relate To 'Santa Clarita's Abby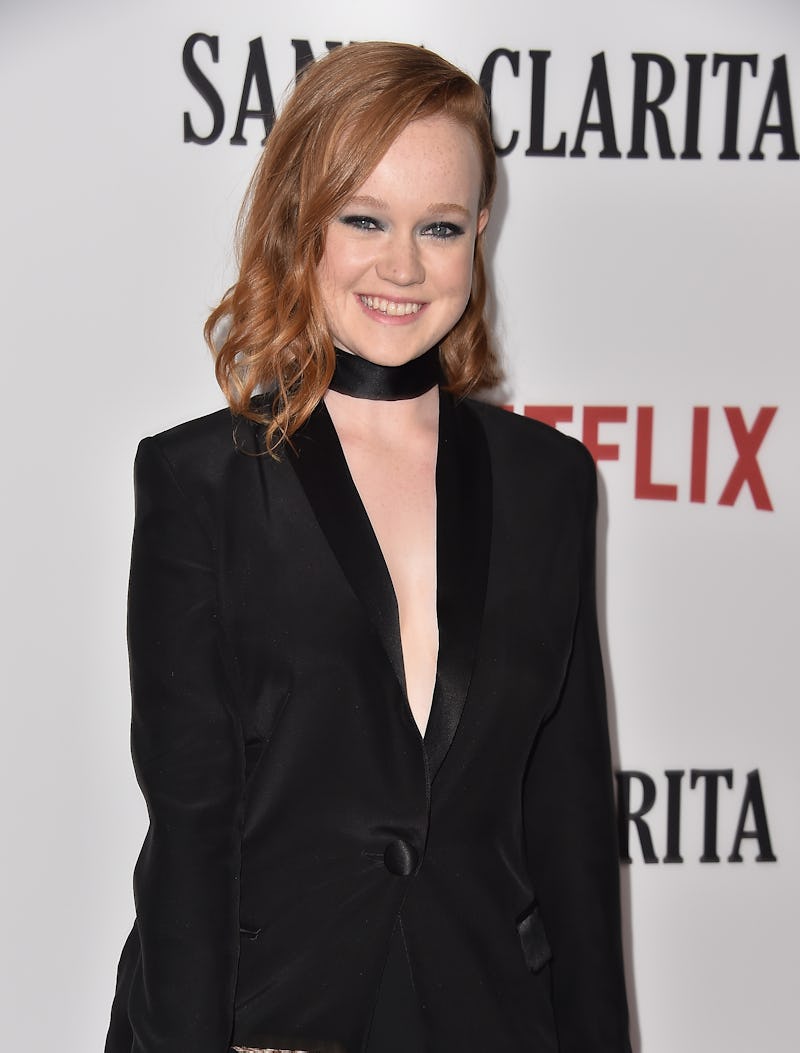 Alberto E. Rodriguez/Getty Images Entertainment/Getty Images
If you have never heard of Liv Hewson, now is the time to learn about this young Australian actress. As Drew Barrymore and Timothy Olyphant's daughter in Santa Clarita Diet, Hewson goes laugh for laugh in the Netflix series with the two veteran actors. And after you're done digesting Season 1 of the delightful Santa Clarita Diet, which premieres on Netflix on Feb. 3, you'll see Hewson in a supporting role in the movie Before I Fall, coming out on March 3, and in Season 2 of the Elisabeth Moss series Top of the Lake, with Gwendoline Christie and Nicole Kidman. Her performance as Abby in Santa Clarita Diet, along with her upcoming projects, prove that Hewson is poised to become a household name.
"I think I'm a glutton for punishment," Hewson tells Bustle. "I love being challenged. Whether it's drama, whether it's comedy, I'll get my grubby little hands on anything and sink my teeth into it."
While Hewson figuratively sank her teeth into the part of Abby in Santa Clarita Diet, it is Barrymore's character, Sheila, who literally sinks her teeth into people. By now, the secret that Santa Clarita Diet is about a suburban realtor who becomes a zombie is out and Hewson's character must deal with her mom craving human flesh as she navigates normal teenage life. Going to school suddenly feels pointless to the darkly funny and sarcastic Abby now that her mom eats people, but luckily, she has next-door neighbor Eric (portrayed by Skyler Gisondo) to confide in.
"The journey Abby goes through, it's one that I remember going through and I think a lot of young people can relate to," the 21-year-old Hewson says. "She is just trying to assert herself as an individual in a world that she doesn't really understand yet. And I think for teenagers, that'll happen to you at some point no matter what's going on."
Yet, if that makes you think Abby's story will be your typical teenager fare (besides the whole "my mom is a zombie" thing), Santa Clarita Diet elevates that trope. Sure, Abby is a rebellious teen (it's "kind of the archetype she plays on the show," Hewson says), but her character is deeper than that. "Part of what shows how well-rounded she's written and portrayed in the show is she does have the capacity to be levelheaded and Abby knows herself very well," Hewson says. "She's not afraid to assert what she's comfortable with and what she wants to do. She's turning into a very self-assured, confident person and I really, really like how the show built that up for her."
Abby's evolution is kick-started due to the fact that she's watching her parents, Sheila and Joel, fumble their way through Sheila's transformation. "Because she's seeing her parents struggle with these extraordinary circumstances they're thrust into, I think she has that realization that every teenager has, which is, your parents are just people," Hewson says. "And that's a really empowering thing to realize when you're a young person and I think it helps you figure out who you are. You realize you never stop growing up and that's kind of fun — that's kind of exciting."
Although the zombie thing is understandably not so relatable, the balance between this paranormal element and just regular life is a major part of the appeal of Santa Clarita Diet and why Hewson was so interested in being part of the Netflix series. "The premise was so surreal, but it was really grounded in ordinary people trying to deal with extraordinary circumstances and I was really drawn to that," Hewson says. "The idea of the comedy relying on this out-of-this-world premise, but also the characters being grounded in this American suburban reality, that dichotomy really interested me."
Another allure of the series? Working with Barrymore, of course. Hewson says she has been a fan of Barrymore since she saw the Cinderella-inspired movie Ever After. While on set for Santa Clarita Diet, Hewson admits to thinking, "I wish I could go back in time and whisper to myself 10 years ago, 'Hey, hey kid. Guess who's gonna play your mom in like a decade?'"
Beyond admiring Barrymore's previous work, Hewson says, "She's an incredibly generous performer and a warm and giving person to be with on set." While you wouldn't necessarily think making a zombie TV series would be so thoroughly enjoyable (look at The Walking Dead's extreme filming conditions), Hewson says, "Showing up to work every day was a pleasure. It was just this atmosphere of everybody loving being there and loving what we were making and that's really special."
The fun of creating Season 1 of Santa Clarita Diet can be felt by viewers, thanks to the performances by Hewson and the rest of the cast. They all seem to be having a blast with the quirky material and that feeling is infectious — just like Abby's mom.