How Sacha Baron Cohen's 'Who Is America?' Can Totally Return For Season 2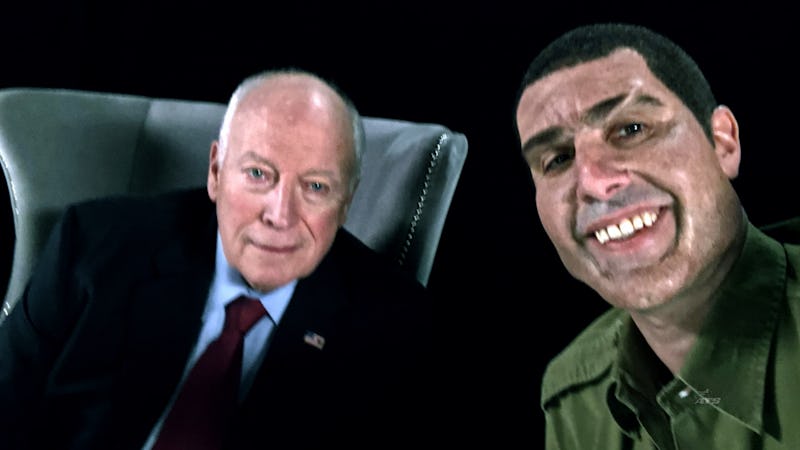 SHOWTIME
You would think a show requiring so many famous cameos, costume and makeup changes, and in-depth trickery would take a long time to make, but if Who Is America? returns for Season 2, it could come back sooner than you'd expect. According to The Hollywood Reporter, the first season took only a year to produce, which means Who Is America? Season 2 could premiere as early as 2019 if the creative team gets a jump on things now. First the show has to be renewed of course, but Showtime seems eager to make that happen following the first season finale on Aug. 26.
According to IndieWire, Showtime Networks CEO David Nevins told reporters at the Television Critics Association (TCA) press tour that he's "dying to bring it back." He added, "There will be a process. I don't know if I'm going to be making any announcements ... [but Sacha Baron Cohen] had me at hello."
Showtime programming head Gary Levine seconded Nevins, saying at the same event, "I think the desire is there, [Baron Cohen] enjoyed the time at Showtime and we've loved having him on our air. If there's a way we can find to continue the show we'd love to do it."
It's not surprising that the Showtime team wants to bring the show back for more. According to another Hollywood Reporter article, Who Is America? has been a slow build in ratings, but has worked its way up to a smash hit for the network. Episode 2 brought in 25 percent more viewers than the premiere, which is the opposite of how most shows air. Usually the premiere is big and viewers drop off after. Instead, Who Is America? seems to be building a steady audience as it goes, and Showtime is especially thrilled for one big reason. It's given them the most streaming site sign-ups of 2018, per The Hollywood Reporter. As more people ditch their cable boxes, networks are going to increasingly rely on paid streaming visits to their shows, and Baron Cohen's series seems to be what the people want.
But while Showtime seems 100 percent on board, this show isn't all that easy to make happen again. Season 1 relied a lot on the fact that nobody knew what was going on. Baron Cohen's characters could fly under the radar, big name people could still be tricked, the show was operating under the cover of darkness. "It's remarkable that we were able to keep it under wraps," Levine said at TCA, per IndieWire. Would that be able to happen a second time?
But even if Baron Cohen isn't able to film new segments for a possible Season 2, there may still be enough content for more episodes. According to The Wrap, some already-filmed segments may not have made it into the first season — including Baron Cohen's much-talked-about bit with Sarah Palin. Levine said at TCA, per The Wrap, that "several people who have thrown themselves in front of buses that may not be heading their way," referencing the hoard of politicians and celebrities who announced ahead of the show's premiere that they'd been duped by Baron Cohen. But Levine clarified that any potential un-aired portions aren't being nixed because of legal reasons — rather because Baron Cohen is a perfectionist.
"Sacha is incredibly hard-working and selective in the final product and he's always refining it and he has a very high bar," Levine said. "He's refining stuff right up to the moment it goes on the air ... It looks like he's doing it all off-the-cuff, it is remarkably organized and deeply researched and I am in awe of his work ethic and his team."
If and when Baron Cohen decides those portions are good enough to be seen, they could be collected into a second season. Otherwise, his attention to detail could actually mean a potential Season 2 could be even farther off. Baron Cohen clearly isn't going to throw anything together for the sake of a speedy return.
With all that in mind, if the show returns, it could be 2019 or early 2020 before it hits our screens. But rest assured that whatever does possibly air will be exactly up to Cohen Baron's high standards, and that's all his fans can really ask.