Andrew From The Chainsmokers May Be Off The Market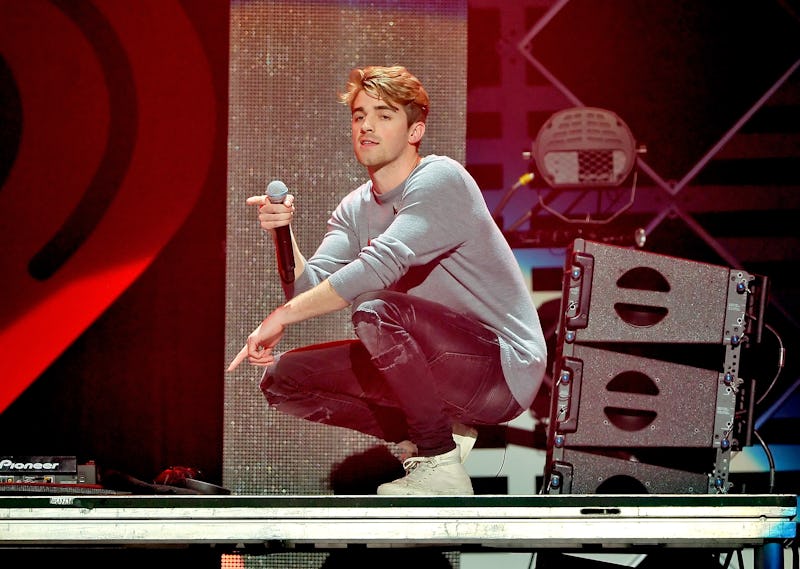 Steve Jennings/Getty Images Entertainment/Getty Images
After a pretty steamy onstage performance with Halsey at the 2016 MTV Video Music Awards, many were left to wonder: Who is Andrew Taggart from The Chainsmokers dating? Eyebrows were certainly raised as Taggart and Halsey shared a seemingly undeniable attraction when they performed their No. 1 hit "Closer," leading to speculation that they were dating, or possibly hooked up in the past. These rumors were controversial, given that fact that both Taggart and his Chainsmokers bandmate, Alex Pall, revealed to Billboard that they were involved in serious relationships back in summer 2016. Some went as far as to speculate that the sexually charged performance may have even caused a rift in Taggart's relationship with his live-in bae, Haley Rowe, causing them to reportedly break things off, at least according to HollywoodLife.
Taggart's partner in musical crime, Pall, spilled all of the juicy details on the alleged split during an interview with Australian morning show, Mike E & Emma, in September of last year. He revealed,
"Actually I still have the same girlfriend, but Drew actually just broke up with his girlfriend like two days ago."
Yikes — totally sounds like Pall may be breaking the "bro code" to me, but he continued to share his thoughts, weighing in on his bandmate's heated VMAs performance. Pall continued,
"You know, I'm sure it had factored in ... I think he felt really guilty about the fact that we're always away and we're doing crazy things and like there's certain opportunities and situations that are going to be coming up that are going to put a strain on his relationship, and I think he wanted to feel guilt-free in the stuff he was doing."
Pretty juicy, right? But, does that mean Taggart is single right now? Don't get too excited, just yet, ladies. Despite the circulating rumors, it appears that all is pretty well between Taggart and his blonde beauty, because Rowe has been consistently sharing photos with the "Selfie" DJ on Instagram — with the latest pic being posted as recently as last week, and I must admit, they do make a really cute couple.
So, sorry, everybody — you'll have to keep waiting, because it appears that the handsome singer may still be off the market.