'Bachelorette' Contestant Anthony Is A Catch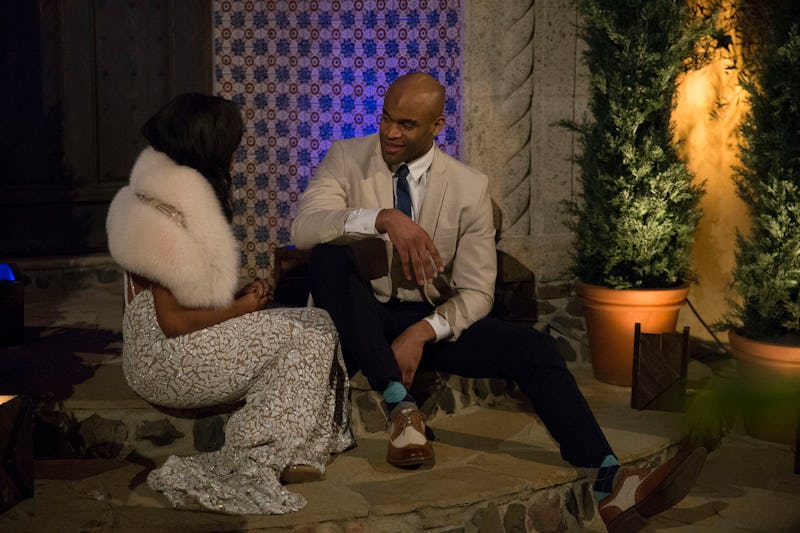 ABC/Paul Hebert
DeMario is out and Anthony is in. After a very dramatic second episode of The Bachelorette, maybe this week, Anthony has a Bachelorette date with Rachel that will hopefully make her forget about Demario's ex-girlfriend showing up. We haven't seen much of him since the show began, so who is Bachelorette contestant Anthony Battle? The 26-year-old Education Software Manager from Chicago has a very interesting life according to social media and I dug up a lot of information on him, including the fact that Anthony is a twin. We will hear more about her in a minute, but let's talk about what we know about him from his Bachelor bio.
Anthony is looking for a woman who's "able to laugh at silly things, but also hold her own in an intellectual conversation." He's close with his family, loves to travel and considers himself a reliable, self-sufficient person. He says he's positive and emotionally intelligent. He seems like he's well-read and likes movies like The Iron Giant, Moonlight and The Matrix. Overall, I would say Anthony is a pretty good catch. Of course that's really all we know about him right now. We could find out that he's got ex-girlfriend drama like DeMario, but I'm staying positive. So what did I find out about this attractive man from his Instagram besides the fact that I like staring at his stomach?
He's A Twin
Anthony has a twin sister named Autume and it's pretty obvious they're identical. That smile though.
He Does Yoga
And looks great while doing it.
He Worked Hard For Those Abs
"In middle school I used to promise myself I'd have a 6 pack by the end of each summer," he captioned a before and after photo of himself, "Over a decade and many hair follicles later I finally have a little something to show for it. I upgraded my phone on the way too."
He's A Cat Guy
He's got an adorable cat who loves to climb into Christmas trees.
He Knows How To Cook
Look at that homemade meal he made. "Peach white balsamic vinaigrette salad, baked lemon pepper chicken with blue cheese drizzle, and egg fried rice #homemade #cleaneating#mencancooktoo," he captioned the delicious pic.
He Loves To Travel
Money and a passport. What else do you need when you're traveling to Africa?
He Was A Teacher In Africa
He taught English in Côte d'Ivoire at the Lycée Classique in 2014. "There aren't enough black male role models. There aren't enough books with positive stories and images about black children. My mission is to be one step forward to filling both of those voids," he captioned the photo.
He's Been To Amazing Places
Like that time he climbed a volcano in Indonesia.
He Was An Adorable Kid
Aww. Look at him and his sister together!
He's A Blackhawks Fan
Just like everyone else from Chicago, Anthony is a hockey fan.
His Ex-Girlfriend Has Been Keeping Up With The Show
This is Amina, and according to her Facebook, she's hosting Bachelorette parties to watch her ex-boyfriend in action. "That feeling when your ex is on the next season of the bachelorette but you have to wait until May 22 to watch it...ha ha ha," she posted in March.
He's An Uncle
Look at that baby in a bear onesie! I'm dead.
He Owns These Pants
You're crushing the pants game, Anthony.
So far, I'm thinking he's a pretty good choice for our fabulous Bachelorette.