Austen May Have A New Girlfriend Post-Chelsea & Victoria Drama On 'Southern Charm'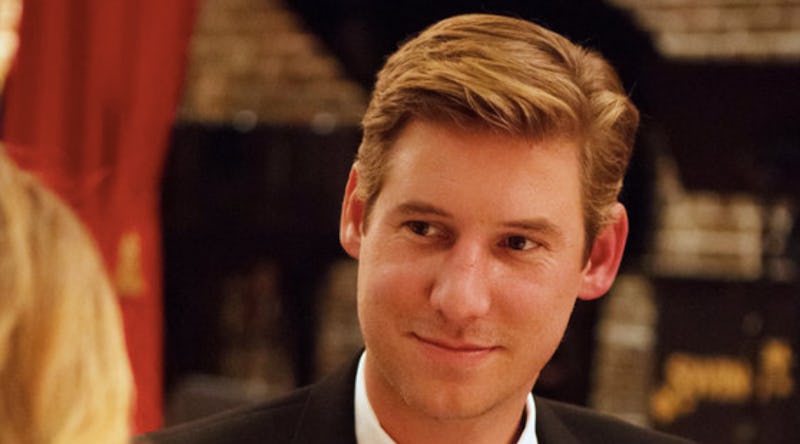 Paul Cheney/Bravo
All of this drama on Southern Charm about whether Austen will get back with Chelsea or stay with Victoria is totally moot. Why? Because after Southern Charm, Austen is seemingly dating someone new. So, while this Victoria and Chelsea love triangle plays out on screen (is it still a triangle if Chelsea wants no part of it?), viewers at home should get to know Austen's reported new girlfriend Madison. After all, she'll probably show up on the show soon at the rate she and Austen are going.
Going by when the couple started posting on Instagram, they've been dating since around February. But fans won't get to meet Madison this season. During an interview with Entertainment Tonight, Austen played coy about whether or not he was officially dating Madison, but he and Craig did confirm that this season of Southern Charm is going to be all about Victoria and Chelsea. Madison, be it in friend or girlfriend context, will not appear in these episodes.
Austen's refusal to answer questions about her aside, it's clear that he and Madison are close based on social media. The duo have posted photos going to brunch, bike riding, and even doing joint #sponcon posts. That's a sign of true love in the digital age.
According to the tags on Austen's posts, her full name is Madison Lecroy, and there's a Madison Lecroy in Charleston who's a makeup artist and hair stylist, according to her LinkedIn. She owns her own salon called Blush and Brushes and may have met Austen through working on Southern Charm! Her LinkedIn states that her hair and makeup services have been used on four seasons of the show, so that would have been an easy way for her and Austen to have a meet cute.
According to an interview she did with Beckett Boutique, Madison has a son and loves fishing and being on the water with him. Austen's basically a big kid himself, so if they're at the stage of their relationship where introductions could be made, her son and Austen would probably get along swimmingly.
Austen last posted a photo with Madison in early May, which could be cause for concern that they've since broken up. But Madison's own Instagram has a photo from just a few days ago to toast Austen's birthday, so it appears these two are still together and going strong.
Fans can probably count on learning more about her in Season 6 if she sticks around. Until then, there's so much drama left to explore with Victoria and Chelsea. When we last left them, Victoria was accusing Chelsea of kissing Austen's arm, and Chelsea was insisting that she was just huddling for warmth on a windy boat day. Victoria wasn't buying it, and Chelsea did admit that she and Austen were probably too close for Victoria's comfort, but that they were just friendly.
Whatever went down for Victoria and Austen to eventually break up and make way for Madison may have had to do with Chelsea — because Austen was clearly not interested in giving up his friendship for his relationship. Here's hoping Madison is OK with that, because Austen is still posting pics of Chelsea on the reg, and they seem as close as ever.
But if Madison has been around the cast for four years doing hair and makeup, she probably knows all of their dynamics really well and can see that Austen and Chelsea are just exes who stayed friends. Victoria seemingly couldn't handle that — but all's well that ends well, since Austen seems to have found a new partner and appears really smitten with her.
Here's hoping the Bravo cameras are capturing their romance to feature in Season 6, because Austen needs a relationship win after all this love triangle drama.