Austen & Chelsea's Instagrams Reveal Whether They're Back Together After 'Southern Charm'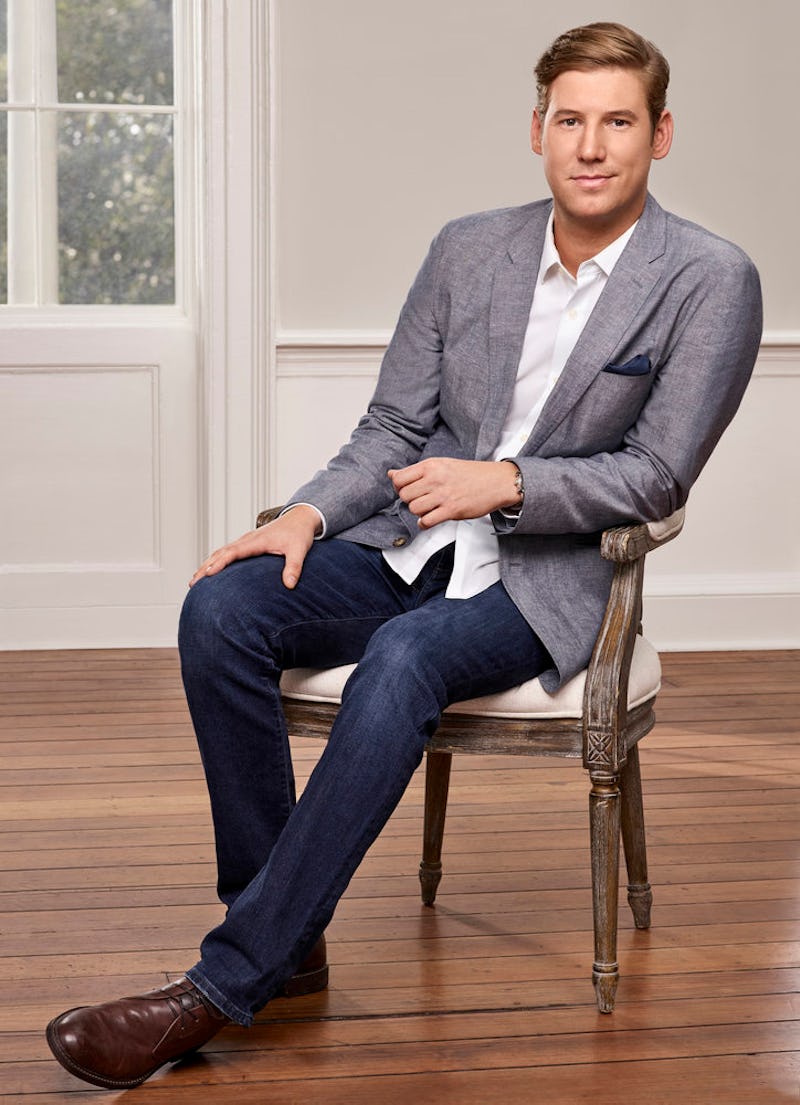 Rodolfo Martinez/Bravo
Like sands through the hourglass, these are the days of our lives… and the relationships we watch on reality television. One of my favorite Bravo couples to watch, as short-lived as they were, were Austen and Chelsea from Southern Charm. He was new-ish to town, she was smart and fun, and it seemed like a good match… until it was not. Are Austen and Chelsea back together after Southern Charm? I think it's safe to say that these two have moved on — at least for now.
For those of you who need a little refresher, Austen and Chelsea started dating on Season 4 of Southern Charm, and in the beginning, it seemed like they were down keep it casual. But then Austen and Chelsea both admitted they wanted more from each other, and then it was on like Donkey Kong, a one-way ticket into exclusive town. Except… they got kicked out of said town when they broke up not long after the Season 4 reunion aired. Ugh, what happened? Well, for one, Chelsea admitted on Season 5 she wanted to take things at a slower pace, and Austen took that to mean that he should date Chelsea's friend, Victoria, too. Awkward.
One would think that a man would realize it's typically a mistake to date your ex's good friend right after you break up, but Austen didn't get that memo. Instead, he and Victoria split, and, according to Chelsea, he allegedly would show up at Chelsea's home at three o'clock in the morning hoping for a goodnight kiss (and then some). That wasn't Chelsea's bag, to serve as a booty call, and I have to say — it wouldn't be mine, either. Now, on Season 5, the two seem to be cool as pals. They still like each other, for sure — and they always got along well — but the romantic sparks have died. Que sera, sera.
But don't cry for Austen just yet — a look at his social media shows that he has another lady by his side.
Her name? Madison LeCroy based on his IG tag, and it seems like she and Austen are seriously going steady. They're in so many pictures together, including some with Patricia, so it seems like she's earned the most disapproving cast member's approval. That's tough to get. Just ask Kathryn.
And while Austen seems happy and in love, what's going on with Chelsea? In Season 5 of Southern Charm, she is single with a capital S, and she's so okay with it. She's a regular now on Southern Charm, she's hanging with her friends (and waging war against the "good old boys" of Charleston, which I love), and she's having deep heart-to-heart talks with her dad about how she's not sure she's the marrying kind. You do you, girl! To paraphrase Miranda Bailey of Grey's Anatomy, Chelsea is a strong woman who knows her own mind. If she doesn't want a man, she doesn't have to have one. Plus, she has a great friend in Cameran. So, she's doing just fine.
Chelsea has also been traveling a lot, and it doesn't seem like she's missing out on anything.
Things look just fine for both Austen and Chelsea. While it probably wasn't easy on either of them to call it quits, they're both doing exactly what they want to be doing, and if it works for them, so be it. Some people are just better off as pals, and such seems to be the case with this former Southern Charm couple. You can never have too many friends, after all!